Robin Dutt takes a stroll down the Row, and further afield, to discover the must-have styles, fabrics and hues for men to remain on trend this Autumn
Trends of course are important – more so seemingly in the womenswear sector. Here, shapes, colours and patterns vacillate from novelty to inventive, chic to ridiculous. However, in the case of men's trends, especially where Autumn is concerned, we have been recently witnessing a "build-on-build" phenomenon which only goes to prove the essential and refreshing stasis of the male wardrobe. Themes are revisited – trusted cuts, although slightly revisited but essentially the same and a delightful consistency when it comes to suiting fabrics, traditional patterns and weaves.
"The Savile Row Effect" is central this season when it comes to sartorial inspiration, ensuring garments are instantly useful and immediate wardrobe staples. This Autumn there is a magnetic embrace of the English obsession with fine wools, slim and exaggerated lapels which float down the chest, standard black and white duo chrome and quite the opposite, surprisingly harmonic clashes of colour.
Take the sensational "A Child of the Jago" for example – a creation of Joe Corre (of one time Agent Provocateur fame) and the inspirational son of Dame Vivienne Westwood. Instantly proclaiming a Dandyesque look, with a slice of calculated danger – well, the company's strap line is "Original Terrorist Clothing" – full of truth and irony. And when the 'T' word is used, it is in this case reminiscent of cheeky Victorian mudlarks, no-good mashers and swells and Dickensian street loungers, all done up in the finest threads. A historical set of themes is also to be found in many other collections too, from the always elegant blazers and coat choices of Ralph Lauren, redolent of 1920s New York country clubs, to the lounge lizard jazz bar feel of Gianni Versace. But Corre's take seems uniquely exaggerated and especially racy, many outfits topped off by inflated Homburgs.
A nod to British travel clothes can be found at Richard James – whom many seek out for his well balanced windowpane checks and solid tweeds or Paul Smith's smooth, more Continental feel in the suiting department. Although travel has inspired both in certain elements of the collections, James' conveyance might be a British Racing Green open top; while Smith's is a jet plane.
As usual, expect great things from the House of Alexander McQueen. Whilst alive, McQueen was one of the few designers who could make statement pieces for men, which, though often based on costume styles and sometimes the stage, never made the wearer feel he was out of place or kilter. The House continues to deliver today, as this season reveals; stridently sharp suits and sculpted coats, which of course, take no prisoners. You may have a well-honed body, but a McQueen ensemble continues to challenge as he always did when he worked on the Row in the early days. Can that really be a size 40″? More gym, I fear…
A disturbing trend in menswear seems to involve oversized tailoring worn with sporting/casual elements; even pants that look like pyjama bottoms. I only mention this because, like it or not, it is an Autumn/Winter look which one predicts will find the nearest sale bins before long. It really is a look that suggests that you got dressed at night, wearing a blindfold. This one is best left to the young gentleman who can deal with irony. But then again, irony should be treated as a seasoning and not a meal in itself.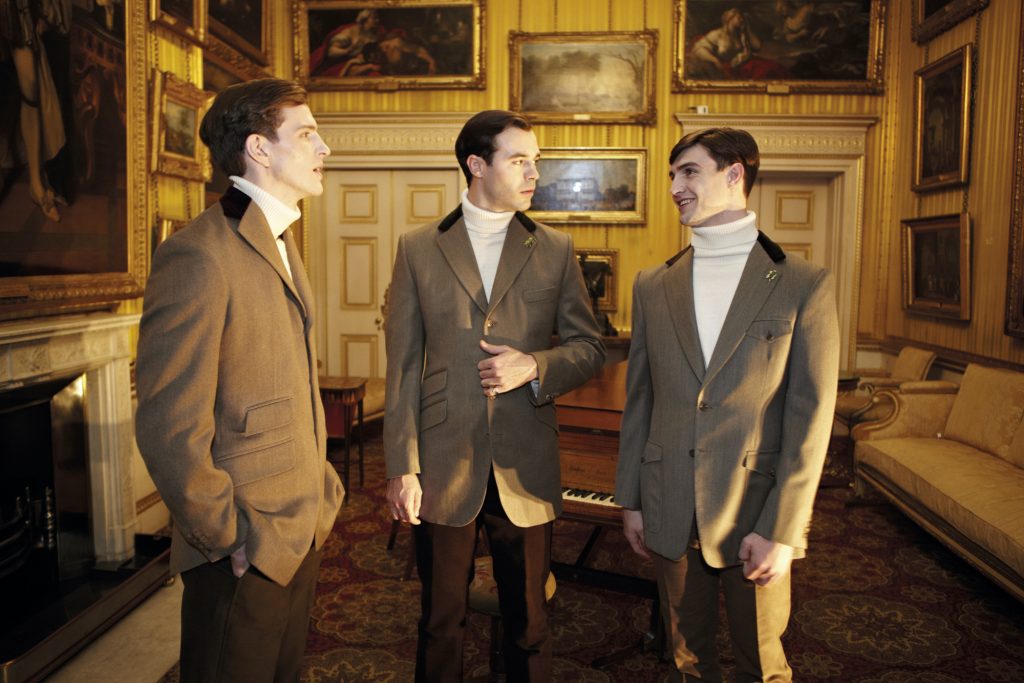 The waistcoat comes into its own at this time too – a visual and functional device which can add satisfying layering and an opportunity to share some of your judicious autobiographical essence when it comes to strategic buttons, neckwear and watch chains – all informing the efficacy of the whole ensemble. Investigate the offerings from New & Lingwood, Turnbull & Asser or take a trip to Portobello, Hornets in Kensington or Old Hat in Fulham to trawl through some mint condition examples from the past. On the Row, look though Mr Gary Anderson's polished silken choices.
The military look again has become a firm Autumn staple with gilt buttons, solid one-colour frogging, epaulettes and brass or silver buttons. A search through collections by Balmain, Dolce & Gabbana and Gucci may reveal a treat or two and never forget the authority of the Row's Welsh & Jeffries if a ball or some other event beckons.
Etro's superb tailoring and sparkling use of pattern and colour, frequently featuring clashing hues and intense paisley designs reminds all lovers of wearable "excess" that you can be adventurous this Autumn. It may even inspire you to hunt for some vintage bolts of cloth or even a heavily embroidered sari with gold thread and gems to have whipped up on Savile Row into a statement shirt or tunic jacket in the manner of Mr. Fish, in his heyday so much part of the peacock parade, which, especially this season, shows no sign of concealing its tail of a thousand eyes.
Faux fur, leather and shearling all made appearances on the catwalk and again not all worn tightly and formally, but teamed with the casual and trims – lapels and cuffs were everywhere!
As usual, it is those little details that make a seasonal outfit come to the fore again – as they always do… skull braces and socks at Jeffrey-West, a surprising swirl-design pochette from Liberty, dotty cravats from Turnbull & Asser, all ideal to spruce up the strident or if you must, a little relaxed tailoring that is going to be the toast of the town this Autumn and really… SO on trend it hurts. But in a great way.
 From Savile Row Style Magazine: Read this Edition Here
Robin Dutt takes a stroll down the