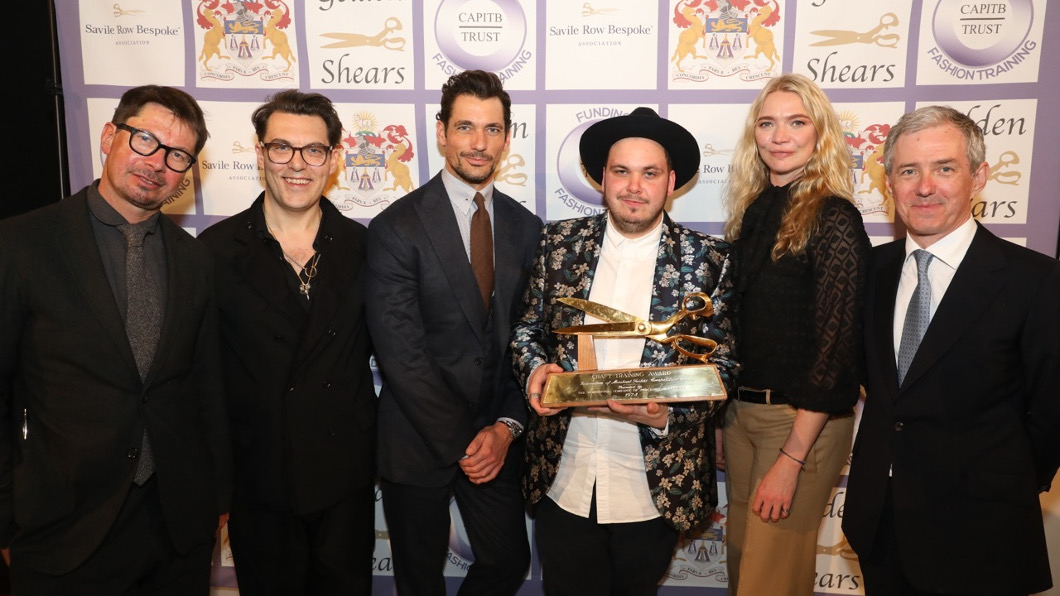 Gieves and Hawkes apprentice Riki Brockman fought off stiff competition to win the much-coveted 2017 Golden Shears award on Monday night. Having passed the first stage of the competition judged by a panel of top bespoke tailors, Riki went on to win the final in a catwalk show held at the esteemed Merchant Taylors' Hall in the City of London.
Despite having a profound respect for men's classic tailoring, Riki's main inspiration comes from the street and workwear. Prior to starting his coat-making apprenticeship at Gieves and Hawkes Riki had studied drama and film before taking a short course in tailoring at Newham College.
Brockman's winning entry – a coyote brown dungaree with beige zipped waistcoat and single-breasted jacket in mid brown – was awarded first place by a panel of celebrity and industry expert guest judges including model David Gandy, TV presenter and model Jodie Kidd, Atonement film director Joe Wright, designer Oliver Spencer and British GQ's deputy editor Bill Prince.
Dubbed "the Oscars of Savile Row", the Golden Shears Awards (established in 1974) is a bi-annual competition championed by the Merchant Taylors' Company, whereby tailoring students and apprentices from throughout the country vie for the Golden Shears trophy and prize money.
Created to support young aspiring tailors from universities, colleges and in apprentice schemes whilst promoting the art of bespoke tailoring, 2017 finalists included entries from London based tailors and colleges such as Thom Sweeney, Norton & Sons, London College of Fashion, Huntsman, Anderson & Sheppard and Kathryn Sargent, with a handful from further afield such as Leeds College of Arts, Rochester, Hertfordshire and Glasgow.
The Silver Shears were awarded to Jorden Barratt, an apprentice at Couch & Hoskins in the City of London for her design of a short black riding cape with silver braid detail, tail coat with embroidered lapel and black trouser, and the Rising Star accolade was won by Matthew Erik-Beale, a student currently studying at the University of Creative Arts in Rochester.
Pictured above with Riki Brockman, from left, are guest judges Oliver Spencer, Joe Wright, David Gandy, Jodie Kidd and Bill Prince.