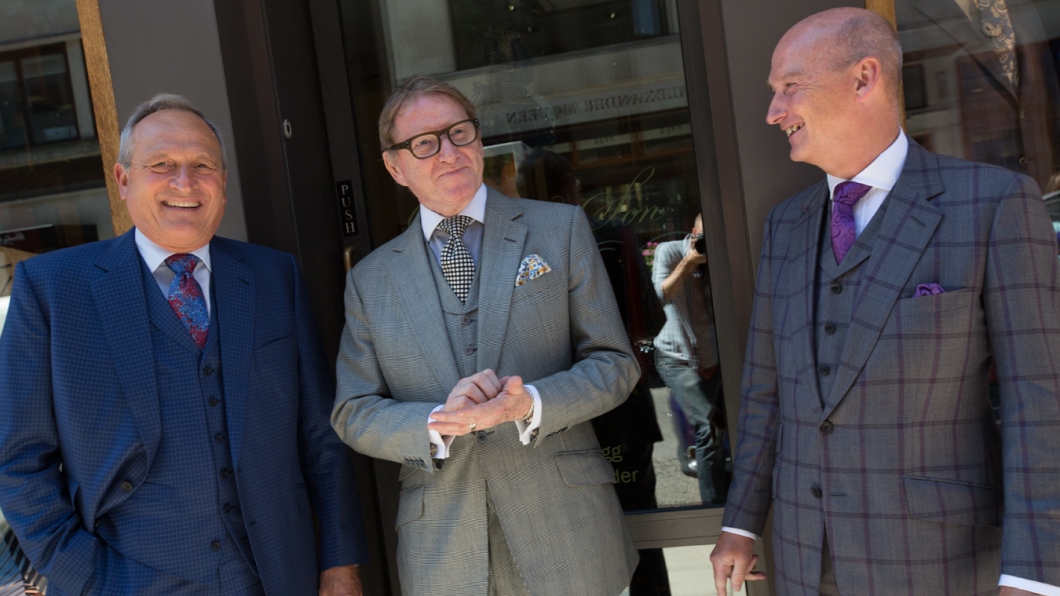 A successful management buyout has taken place at Savile Row tailoring house Davies & Son where, after an illustrious career and 21 years as the owner and head cutter,  Alan Bennett has stepped down and the ownership of the company has passed to longstanding staff members, Graham Lawless, Patrick Murphy and Mark Broadfield.
Alan, who will continue to work alongside the rest of the team for the foreseeable future and remain as chairman, said: "I am happy to pass Davies & Son on to three members of staff who I have worked with for a long time and whose company I have enjoyed so much over the years. I am particularly proud to see Patrick's association with the company as he began with me as an apprentice and is now part owner of the firm."
The new owners are particularly pleased to have organised an internal buyout as, in recent years, many tailoring houses have been bought by overseas companies or external hedge funds. As sales director Graham explained: "Having worked at Davies and Son for 10 years and in bespoke tailoring for more than 30, the opportunity to own this fine historic company alongside two exceptional colleagues is a dream come true.
"Our aim is to take the company forward on a new and exciting journey while not forgetting over two centuries of tradition. I cannot thank Alan enough for putting his trust in us and to enable us to continue as an independently owned company on one of the world's most prestigious streets. The investment was a logical step for the three of us. Our individual relationships with the company each differ, but our collective vision and passion for Davies & Son shared over many years meant that joining forces to buy the company was a logical step and a realisation of long standing ambition."
Head cutter Patrick Murphy, who returned to Davies & Son two years ago after a long tenure at Huntsman, said:  "I started my career at Davies & Son. The company has long been a standard bearer of traditional bespoke tailoring and is one of the oldest houses in the world. To be at the helm of such an eponymous business is an honour and I look forward to the challenge of taking Davies & Son onto the next level."
Financial controller Mark Broadfield has worked for the firm for 20 years and said: "I've thoroughly enjoyed working here and love the whole bespoke tailoring world. Travelling in from Leigh on Sea in Essex has never been an issue for me. As Dr Johnson once said, 'He who is tired of London is tired of life'. I think that sums up my attitude to Savile Row equally well."