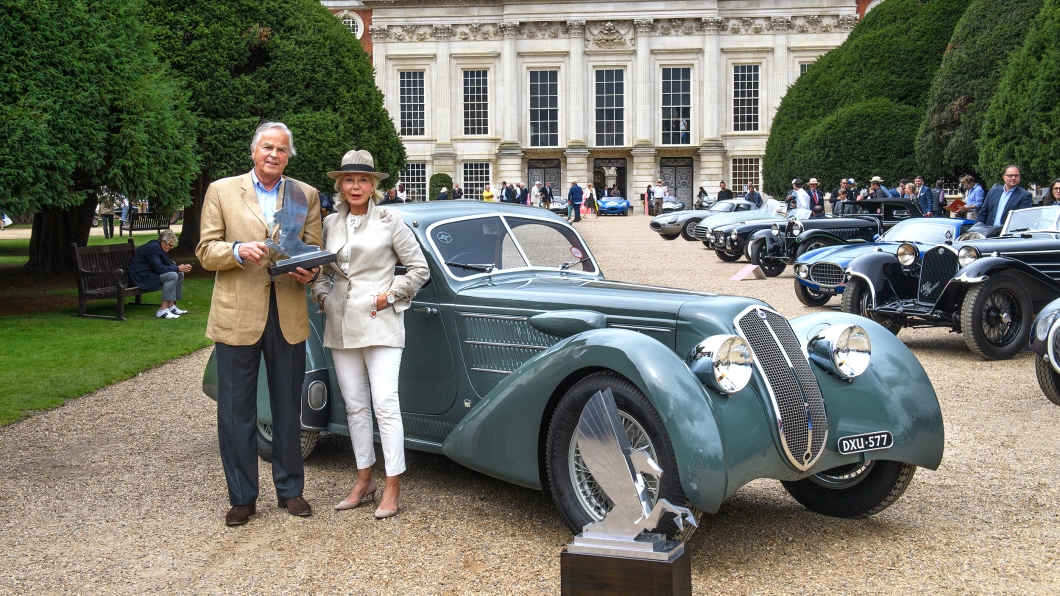 Motor enthusiasts descended on Hampton Court Palace in their thousands to admire what some people called "the most expensive car park in the world". Enjoying some September sun, around 12,500 people flocked to the Concours of Elegance, now in its sixth year, to see around 1,000 cars around the spectacular gardens.
More than 60 of the world's rarest cars were in the running for the honour of Best in Show which went to the Lancia Astura Aerodinamico Castagna. The quality of cars this year was such that even be invited was an achievement in itself. Among the star attractions was the first car ever to emerge from coachbuilders, Frua, the Fiat 1100 Frua Spider and the Bugatti Type 57C Atalante Rollback.
The Royal Automobile Club presented HRH Prince Michael of Kent with the Spirit of Motoring Award for all he has done for the world of classic cars and motorsport, including his role as patron of Concours of Elegance. Winner of the 'Spirit of the Tour' – contested by cars on the pre-Concours Tour of Wessex – was Peter Briggs and the Bentley 3-Litre Le Mans, the first ever Bentley to race at Le Mans in 1923.
Outside of the main Concours of Elegance cars, nearly 1000 other models were there, including some of the finest examples from the UK's most prestigious car clubs. A panel of expert judges, including Prince Michael, chose a Rolls-Royce Silver Ghost Taj Mahal, originally owned by the Maharaja of Nabha, as winner of the RAC Club Trophy.
Nearly 80 historic Jaguars were on display on the Saturday, competing for the Jaguar Land Rover Classic Trophy. Led by Jaguar Land Rover Classic Director Tim Hannig, a panel of judges overwhelmingly decided the car they would most want to take home was a 1938 SS Jaguar 2.5-litre Drophead Coupe.
On the Sunday more than 60 Bentleys arrived in the gardens, ranging from the pre-war grand prix cars to some of Bentley's very latest Continental models. A judging team of Bentley experts carefully assessed every model before awarding the Bentley Trophy to a Bentley Mk6 James Young, recently the subject of a full restoration.