Proving that there's no room for unkindness in the sartorial world, Huntsman are supporting 'Be Cool Be Nice', the anti-bullying movement by designing a pocket square featuring the BCBN teddy donning the house's country tweed and a flat cap. Hand rolled in the UK this 100% silk pocket square provides the delicate finishing touch to any jacket while also supporting a fantastic cause.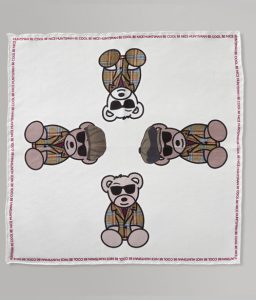 "Huntsman are pleased to support BCBN's action against bullying," said Huntsman's chairman Pierre Lagrange. "Whether it is in enterprise, at home or at school, there is no room for bullying practices and negative energy. We are eager to encourage positive behaviour, and nothing beats that message coming from creative leaders and influencers who are listened to by young people."
Advocating kindness, good manners, and civility, alongside encouraging positive interactions on social media, Be Cool Be Nice have also invited big fashion names such as Burberry, Lenny Kravitz, Marc Jacobs, and Alber Elbaz, to give the BCBN teddy their signature creative makeover.
Proving that there's no room for unkindness