Birthday celebration draws the crowds to a treasure trove
Although a London and international institution, it might be hard to realise that LAPADA (The Association of Art and Antique Dealers) celebrated its 40th birthday last year.
Established – some might say, a mite audaciously – on December Friday 13 1974, dealer Gordon Savage was quick to wish the association well but wondered whether it would survive the launch ceremony. But if the hordes of conspicuously eager visitors were anything to go by, the enthusiasm and enjoyment of this fair has not diminished. As many observers and writers are quick to point out regarding the significance of the date of the launch, this certainly did not seem the most suitable time to garner clients and of course, impress customers.
1974 began with the Three Day Week, which many will remember for restriction of electricity, which meant doing homework by candlelight. Or not doing it at all! Television broadcasts ended at 10.30pm. And then there was the oil crisis. But despite all, business in the art and antiques world in many quarters was on the up. On reflection, the establishment of Lapada at this time of seeming negativity was not such a bad idea. At least there would be plenty of chandeliers to light up the darkness. And oh yes…the symbol of Lapada… precisely that.
If anything, the opposite is true. For seven of those forty years, the familiar Berkeley Square marquee has been such an integral part of the early London autumn scene that this part of the capital would look strangely denuded without it. Of course it is a given that even if attending every moment of every day that the fair is open, one still will not be able to see everything. The sheer variety of the exhibits – paintings, sculptures, furniture, jewellery, fugitive objets d'art and other oddities dazzled this year, buoyed up by the birthday celebration at the Collectors' Preview. This witnessed a vast audience in attendance, sipping Lanson champagne (seemingly endlessly poured), whilst a glittering queue snaked around the Square. But the mood was one of bonhomie, expectation and excitement, despite the wait to gain entrance.
Although seasoned visitors can and usually are experts in their field and choice of collecting, it has always been a feature of the fair that the first time buyer should not be deterred but indeed encouraged. Accordingly, although one might not receive much change from half a million pounds for an item or two, for just £500 one can secure a precious treasure here. It will have great provenance and may be purchased from a dealer whose own enthusiasm marks him or her out – even among other dealers who might not be part of the association. The chief joy for many this year – as in the past – was the ingenious balancing of the antique world and the fervently, even feverishly contemporary scene. Curated with care and a precise eye, old and new worlds provided a not surprisingly contextual balance – the stridency of a pop image, say, informing the established assurance of a Regency extravaganza. Often, old and new actually needed one another – quite evident if one thinks about the collecting zeal of characters as diverse as say, Andy Warhol and Gianni Versace.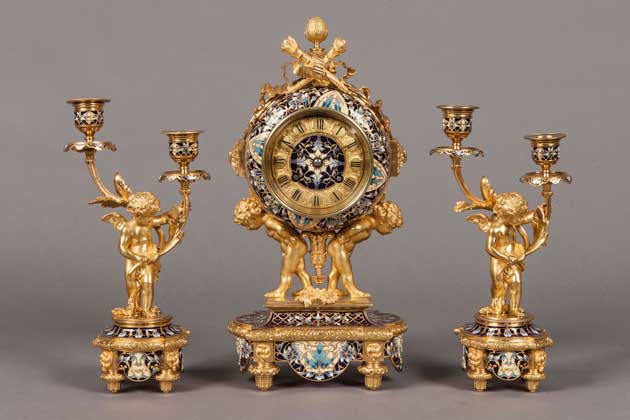 An example last year might be the Butchoff Antiques competition to mark half a century in business. This took the form of a competition for students. The winning design by Kingston University's Giulia Liverani was a portable laptop table called 'E-Scritoire' – an appellation that wittily united the antique and contemporary worlds. Other students were inspired by Butchoff's history of providing customers with choice pieces from the Georgian, Regency and Victorian eras.
As a timepiece (more than) enthusiast, this writer found much to weep about – tears shall we say, not of jealousy but envy. In this sector, from a heritage piece for your wrist to the classic vestibule statesman in the form of a long case clock, there really was something for everyone. A cliché perhaps, but what is a cliché if not an often repeated truth?
What is particularly impressive here is not only the precision of the knowledge of these dealers but specification almost within specification. Craig Carrington's Grand Tour pieces dazzled and Sandra Cronan's unerring eye for the finest jewels reminded everyone of her authority. The indefatigable Tony Pontone of the Albemarle Gallery fused together several contemporary talents and Tanya Baxter displayed luscious jewel-bright oriental portraits. Philip Mould displayed divine portrait miniatures.
There were so many highlights that it would be impossible to list them all, but the carpets and tapestries on display provided that element of luxury and bursts of woven colour which perfectly partnered the
objets de vertu.
Mieka Sywak, the Fair's Director, emphasised the event's overall design – nature in an urban setting, balancing, "elegance and a touch of whimsy." And a more desirable, timeless inspiration one might be hard-pressed to shake a very polished stick at.
Birthday celebration draws the crowds to a