British film fans no doubt cheered loudly when Gary Oldman won the Oscar for Best Actor at the 90th Academy Awards but there would have been an extra cheer coming from behind the doors at 15 Savile Row.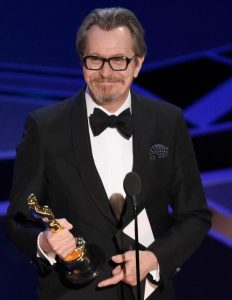 That's because the team at Henry Poole, led by MD Simon Cundey, were the experts called in by the makers of Darkest Hour to ensure all the suits worn by Oldman as Sir Winston Churchill were accurate. Oldman thanked his 99-year-old mother in his acceptance speech, saying "put the kettle on because I'm bringing Oscar home".
Historical accuracy is central to period productions like Darkest Hour so it was no surprise that director Joe Wright and costume designer Jacqueline Durran turned to  Henry Poole & Co, the real-life tailor to Churchill, to make sure everything was correct.
Simon was delighted to pass on his congratulations. "It was a privilege to work on the film with Joe Wright and Jacqueline Durran," he said. "Congratulations to Gary Oldman for winning Best Actor at the Oscars for his portrayal of Sir Winston Churchill. As Sir Winston's tailor in real life and for Darkest Hour we took great pride in making the costumes for Gary Oldman and Ben Mendelsohn (who played King George VI), all adding to our great history.  Sir Winston would, I'm sure,  deserve an Oscar as one of our greatest prime ministers."
British film fans no doubt cheered loudly