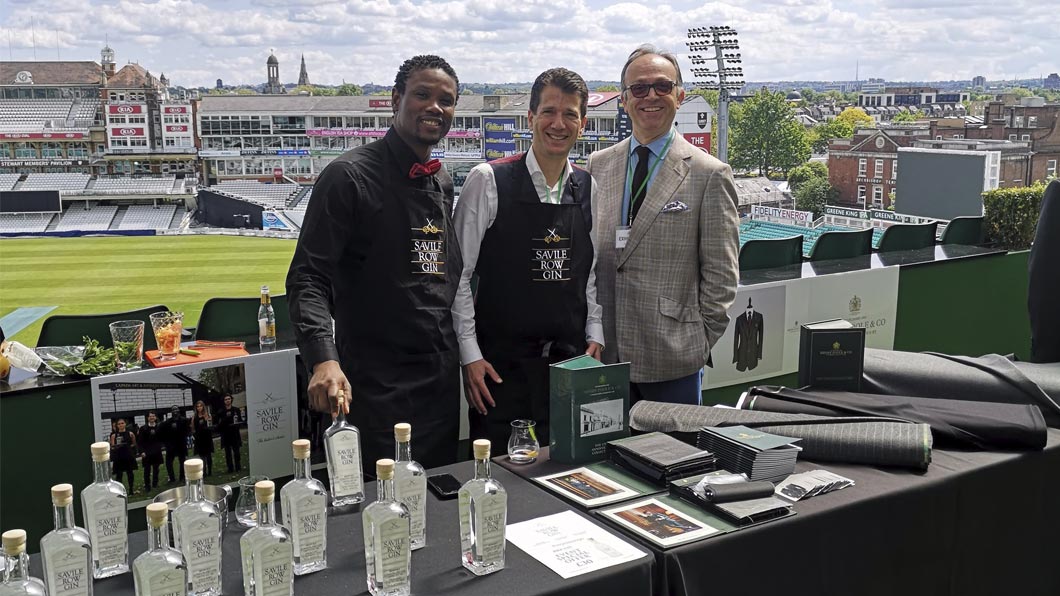 The team at Savile Row Gin were delighted to have received the most votes for the best gin, as voted by attendees at its first consumer gin event, The Gin Lounge held at the Oval Cricket Ground on the 11th & 12th May 2019
The team were joined on their stand by the founders of Savile Row, and the creators of the dinner jacket, Henry Poole & Co, who showcased many different cloths in addition to the original Winston Churchill fabric. Henry Poole were represented by front of house manager Anthony Rowland who gave visitors an insight into the history of Savile Row and the Henry Poole story which dates back to 1806.
Commenting on the award, Stewart Lee, CEO of Savile Row Gin told Savile Row Style: "This was an important test for Savile Row Gin as whilst many thousands of guests have enjoyed The Perfect Serve Savile Row Gin & Tonic at our partner events, this was our first public facing showcase, attended by a loyal, knowledgeable and gin-loving audience who certainly knew their Gins."
"The overwhelming feedback over the two days was very positive for sure, and I could tell they liked it a lot, as many visitors came back at the end to buy a bottle", added Lee. The team were joined by head mixologist Maurice Lawrence who gave visitors to the stand an in-depth talk about the gin's twelve botanicals and what they can expect to experience when tasting this very smooth gin neat, and when served with tonic and a slice of pink grapefruit. "They loved our samples of the Perfect Serve", Lawrence told SRS – 50ml Savile Row Gin, 150ml classic Indian tonic, a slice of pink grapefruit and a mint leaf. Lee also confirmed at the show that the brand will be exhibiting at this year's Imbibe Live at Olympia in July.
To find out more, please visit: Savile Row Gin