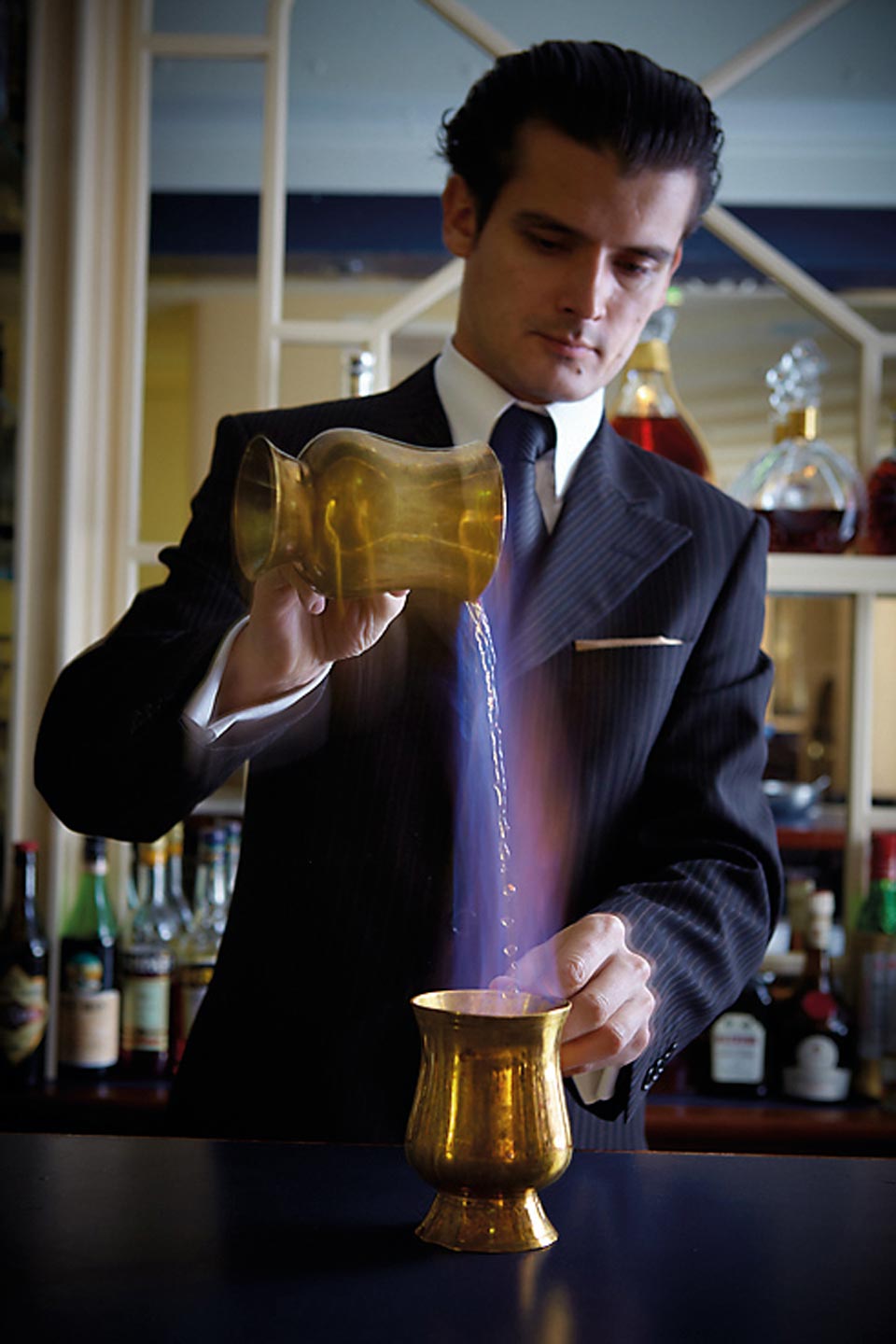 You may need to go to Raffles for an original Singapore Sling but there are other famous confections to be enjoyed at the hotels and bars that lay claim to their inventions – with some disputations here and there.
Take, for example, the Mimosa, a respectable mix of champagne and orange juice. This is credited to the Ritz Hotel in Paris, created in 1925. However, it bears a strong resemblance to Buck's Fizz, drunk at the old London gentlemen's club, Buck's, and served there from 1921.
The plot or the cocktail thickens with the details that Buck's founder, Captain Buckmaster, was inspired to create the drink by a mixture he enjoyed in France, made from champagne, peach juice and another ingredient. Buck's barman at the time couldn't find any peach juice, and so used orange juice instead. The third ingredient is a Buck's secret, but for general consumption a mix of 2 parts freshly-squeezed orange juice to 1 part champagne is usually accepted as a Buck's Fizz. Traditionally a fresh starter for the day, it has also become much favoured for wedding breakfasts, presumably in the hope of keeping guests reasonably sober. The mixture should be gently stirred, not shaken.
A few years later, a French barman at the Paris Ritz came up with a similar champagne cocktail but reduced the amount of orange juice, upped the fizz a bit, and added grenadine or Grand Marnier, according to which report you choose. This not only gave it a bit more kick but transformed it from a day-starter to one that might be enjoyed at any old time. And so it is, all over the world.
A Bellini uses the Italian fizz Prosecco rather than Champagne, in a recipe that started in Harry's Bar, Venice. Here, the likes of Ernest Hemingway (claimed as a regular by more bars around the world than could possibly have allowed him to write anything) and Noel Coward might have enjoyed this cocktail, invented in 1948. It uses one part peach puree to three parts Prosecco and a small amount of sugar to taste. Alas, the bar, declared a national landmark by the Italian government in 2001, went bust in 2012, but bounced back in true Italian fashion, and remains a Venice treasure, though no longer with the Cipriani family in charge.
America likes to claim invention of the cocktail, particularly in the form of a Martini. It has to be said that there were many versions of a gin and vermouth in London long before it became a sophisticated choice in the US but it has certainly become largely associated with city slickers across the pond, especially in the 1920s.
Ratios vary, according to taste, but while early mixes might combine 2 parts dry gin to 1 part dry vermouth, the vermouth gradually reduced until, as Noel Coward is quoted as saying "A perfect Martini should be made by filling a glass with gin, then waving it in the general direction of Italy." Bemelmans Bar at the Carlyle Hotel in Manhattan is credited as being one of the best spots to enjoy one, while the Waldorf is no slouch. The latter is rather more famous for its Waldorf Salad, said to have been invented there in 1893.
London is now recognised as the world centre for cocktails, with bars and hotels claiming special varieties and accomplished mixologists – not barmen any more, please note. The American Bar at the Savoy Hotel has a particularly impressive history as the birthplace for many cocktails, served to an equally impressive clientele over the years. During WWII, the head barman created cocktails for each branch of the armed services, from Eight Bells for the Navy to Wings for the RAF. An earlier barman, Harry Craddock, came up with the White Lady, a mixture of gin, Cointreau, lemon juice and a dash of egg white, still to be savoured in the revamped bar today.
After dinner, a stiff digestif mix rather than a sweet cocktail might be called for. Over at the Ritz in Mayfair, a combination of 15 year old Dalmore whisky, Carpano Antica Formula, Amer Picon, toasted barley syrup, vanilla bitters and absinthe comes under the name of London Mist – which may well envelope the unwary imbiber. Created here in the year that the hotel opened, 1906, it has, we found, 'a unique taste'. Served in a glass with a lid, which the waiter removes on serving to reveal rising mist, it has not yet achieved world renown and is undoubtedly an acquired taste.
More of a favourite is the one concocted to celebrate the hotel's centenary in 2006, the Ritz 100. This is a mix of gold-infused vodka, Grand Marnier, Champagne and a dash of peach, plus one brown sugar lump, which must be dropped into this heady mixture using silver tongs, says the Ritz. As with all cocktails, it is the detail that counts.