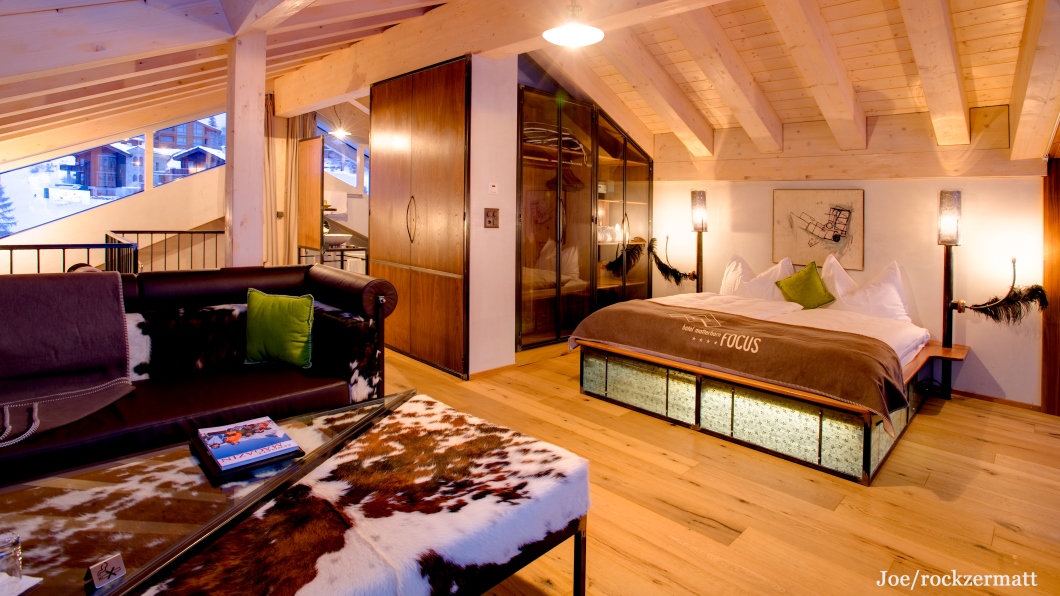 The Design Hotel Matterhorn FOCUS in Zermatt is like a work of art. The combination of modern architecture, genial comfort, attentive service and fascinating countryside create a special ambience. The splendid location with an unbeatable view of the famous Matterhorn emphasises the high standards that the hosts set for the hotel.
Designed by Heinz Julen, known worldwide for his eye-catching and surprising designs, the Focus focuses on unobtrusive elegance and on special attention to detail. Most of the 30 super-comfortable suites and rooms (Heinz Julen created the furnishings and lighting for the Focus) offer a view of the Matterhorn, some even from the free-standing bath tubs. While from the other rooms there is a view of the buzz of activity in the charming Valais village of Zermatt. We recommend the DOM roof suite with fireplace and balcony facing the Matterhorn.
The spacious and exclusive wellness area invites guests to relax in luxury, where all their needs will be catered for. It is very important to the hosts, that the guests are able to enjoy to the fullest their well-deserved and always too short holiday. To this end, a splendid indoor pool, an outdoor whirlpool, a saline bath, a caldarium and a Finnish sauna are waiting for the guests. A relax room with heated couches provide relaxation.
The hotel does not offer lunch or dinner, but its breakfast selection is one of the best both in terms of quality and quantity, and sets the tone of your day, whether you are skiing or exploring the mountains in the summer. A short stroll to the village centre of Zermatt gives you countless dining options.
Needless to say, Matterhorn FOCUS offers all amenities of modern hospitality with free internet access and a competent and committed hospitality. Above all, the hotel is very well located by the cable car station "Matterhorn glacier paradise".
Phone +41 (0)27 966 24 24
Direct booking link with best price guarantee
https://www.simplebooking.it/ibe/search?hid=3559&lang=EN&cur=EUR