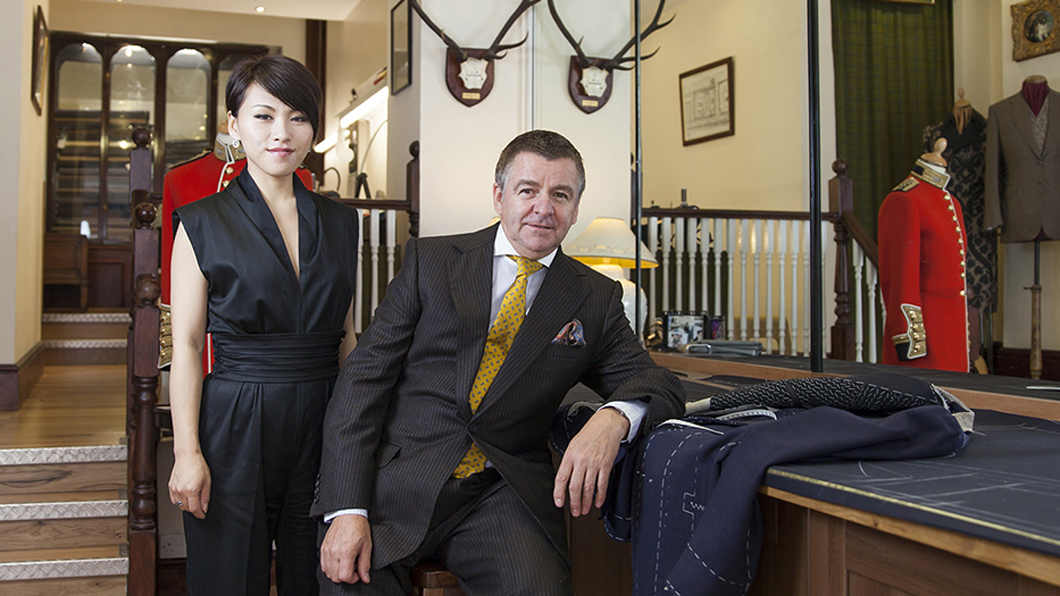 By Daniel Evans
The picture may be small – I guess it's around 6 inches by 4 inches – and black and white but it has pride of place at 20, Savile Row, where Welsh & Jefferies is marking its 100th anniversary in some style this year.
The young man in the photograph, with his back straight and holding his military sword, is dressed in the uniform of the 4th Queen's Own Hussars. And, as many portrayals of young men from that period do, he looks proud to be preparing for battle.
The photograph is of Winston Churchill and it takes a moment or two for me to realise that the jacket he is wearing in the picture is now on show beside me. As I feel the contours of the jacket's decorative trimmings, it is hard to imagine that this military outfit may well have seen action on the back of arguably the greatest Briton this country has ever produced.
"We are very proud that a military outfit worn by Winston Churchill is part of the heritage here at Welsh & Jefferies," says the business's current owner James Cottrell. "Understandably, the uniform has faded but, allowing for its age, it's still in pretty good shape. Everything's done in silk which has a shelf life and begins to rot. The silver is tarnished. It would have been quite figure-hugging. It's designed to come in at the waist so when they were on horseback they would look slim."
The company began life when a Conservative MP – a Mr Welsh – and a tailor – a Mr Betteridge – decided to open a business together. "But they felt that Welsh & Betteridge didn't sound right so they decided to change it to Welsh & Jefferies," explains Cottrell. "They made school uniforms for pupils at Eton and then moved on to make military uniforms for the officers in the First World War. Unfortunately, a lot of those people didn't come back so the company moved into civilian wear and relocated to London where they had several bases in and around Savile Row before landing up here at No 20 about 30 years ago."
Cottrell came into the trade back in the late Sixties and worked for, among others, Tommy Nutter, Henry Poole and Kilgour before being invited to join Welsh & Jefferies in 2006. Six years later, he and his business partner Ying Mei Quan took charge. So, how has it been running your own company? "There's a big difference between working at somebody else's business and running your own," Cottrell says with a smile. "You've got all the worries. Everything is on our shoulders now. We have to make sure everything is done – from the business side to making sure customers are happy and that they will come back and order more."
The partnership between the two seems to be paying dividends with Mei developing the business in China and concentrating on the younger customers while Cottrell focuses on the more traditional end of the business. Mei, who arrived in England from north-east China as an 18-year-old in 2000, takes up the story. "Between 40 and 50 per cent of our business is now with China and Hong Kong," she says. "I travel over there four or five times a year and the market is growing quickly.
"James and I have different customers. Mine are a lot younger. That's another change for Welsh & Jefferies. As customers get older, you want to attract the next generation and that's what we are trying to do here. Most of my customers are between 25 and 30. They like colourful and casual clothes as well as more formal things."
As part of the 100th anniversary celebrations, the luxury watchmakers Jaeger-LeCoultre hosted a successful party for Welsh & Jefferies in its shop on Old Bond Street. "It was a wonderful evening with many of our customers there," says Cottrell.
So now, with 100 years ticked off, how does the future look for Welsh & Jefferies and Savile Row? "Being a Savile Row tailor means a lot to me but I'm a little worried about the future," says Cottrell. "High rents are the biggest threat. I don't quite know how we go about sorting that out but if it carries on the way it is, I think the days of Savile Row are numbered. It would be a tragedy if Savile Row didn't exist because it has been here for so many years. Once it's gone, it's gone. It won't come back.
"It deserves special consideration. Savile Row tailors can't generate the income of some of the bigger companies – companies who are prepared to sink big money into Savile Row just for the sake of the address whereas we must rely on our trade, making suits and trying to make a living."
Business in the modern world is never easy but you get the feeling that, with Winston Churchill in their armoury, Welsh & Jefferies can look to the next 100 years with more than a little confidence.