All aboard for Cowes Week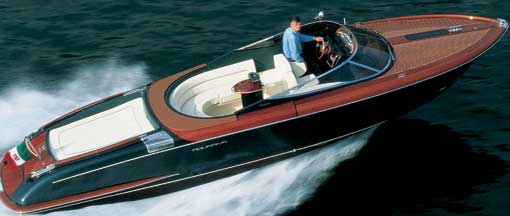 The nautical high spot of the Season is Cowes Week, which entices thousands of sailors from around the world as well as many more who revel at the sight of all sorts of vessels competing on the high seas.
The small Isle of Wight hosts this sailing celebration in what is one of the last events of the Season's calender, just before the start of the Shooting Season. The very first regatta was staged here in 1812 but it was in 1826

that it got properly underway, under the patronage of George lV. It has taken place every year since then, apart from during the two World Wars, getting larger all the time, And now it provides a wonderful jamboree of big and little boats and ships, just across the Solent from the historic base of the Royal Navy in Portsmouth, offering all sorts of races and events as well as a gay round of balls, dinners, parties and concerts.
This year's is the 180th anniversary, with over 1,000 yachts and some 8,500 competitors due to take part. Right, the Royal Yacht Squadron vantage point.
Sexy model revamped for playboys
Riva has launched the Aquariva (at top) that recaptures the sleek, glamourous lines of the Aquarama - the model beloved of film stars, royalty and playboys in the 1960s, they report.
This undoubtedly beautiful craft combines the best of the old model's style with the latest technology. Longer than the Aquarama by 5 ft at 33ft, the shining mahogony deck and hull - a major attraction of classic design - is laid over the more stable and durable GRP. A minimum of 15 coats of varnish goes into building up that shine and the craftsmanship that went into its predecessor is maintained here, evident in the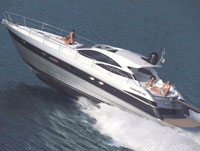 immaculate fittings and finish. Capable of a top speed of 42 knots, it carries a price tag of £299,000. Contact Ventura, dealers for Riva as well as Ferretti, Pershing, Mochi and Custom Line in the UK, on mnw@venturaeurope.com
In the bargain area (if £700,000 comes into your bargain category), Pershing has developed a shaft-drive version of their best-selling Pershing 50 yacht (pictured left) that makes it £100,000 cheaper than the surface-drive version. She is just under 60ft in length, is capable of 37 knots, has 3 cabins and a gleaming dining saloon that will seat 8. Price £700,000 including VAT. Also through Ventura, as above.