Culture in the Country
Glyndebourne may lay claim to being the cultural centrepiece of the Season but there are other additions that have brought high brow interest and which have given international status to some beautiful parts of the UK that are off the beaten track.
The Aldeburgh Festival of Music and the Arts (June 8-24) isn't that new an addition, as it prepares for its 60th event, though by comparison with the established sporting occasions it is a youngster. Kicking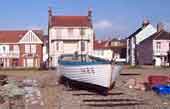 off with the 'Death in Venice' opera, it moves through an impressive programme of recitals, concerts and choirs in the Snape Maltings complex in this pleasant town on the Suffolk coast. Established in 1948 under the auspices of Benjamin Britten, it attracts international performers and audience. Go to www.aldeburgh.co.uk for a full programme.
The Hay Festival (May 24 – June 3) has been going 20 years this year and presents a variety show of writers, musicians, comedians and other acts, but with books at its heart. It takes place in Hay-on-Wye in the midst of the wonderful Brecon Beacons National Park and the packed programme includes such celebrities as Beryl Bainbridge, Andrew Davis, Ian Rankin, Vivienne Westwood and Lord Butler. www.hayfestival.com
Another book fest at the Althorp Literary Festival (16-17 June), then the Hay-on-Wye Music Festival (13-15 July), followed by the Port Eliot Literary Festival, (20-22 July) a mixture of all-sorts in the Cornish countryside.
But is it Art?
You may now adorn your walls with a picture made from your own DNA. This is a new concept from the art world that allows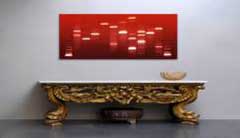 use of the unique genetic code to create an image on canvas, as a photograph or etched by laser on to a crystal sculpture.
The process, originally developed in the Netherlands, takes a tiny slice of the human genome and transforms it into an image. The client is sent a swab kit with which to take a sample of their DNA from the inside of their cheek. It is then returned in a sealed metal case, marked with a unique bar coded sticker. As strict European regulations govern the storage of DNA material, as soon as the DNA sample is processed in the laboratory it is immediately destroyed. The resulting artwork is delivered to the customer ready for display within four weeks - an example shown here.
DNA-Art UK Ltd is the company offering this service in the UK. They have been able to identify several characteristics such as blood type and sex and are currently working on the visualisation of other personal traits such as hair colour, eye colour or whether someone has dimples. They report that facets of the DNA structure which can be turned into visual form are as diverse as the human beings captured within the artwork.
DNA-Art also plans to provide services such as the Signature Range, which will allow clients to autograph their canvases, and clients will be able to have their DNA image juxtaposed onto someone else's, such as a spouse or partner, or join canvases together to create a family portrait. Even a pet's DNA can be transcribed.
Prices range from £415 for a small portrait to £745 for a large portrait or £1200 for the crystal sculpture. An exclusive range of artwork may be seen at the Surrey showroom and online at www.dna-artuk.com
Dame Kiri in Devon
THE COUNTRYSIDE seems awash with culture. The North Devon Festival has a long and extensive programme ranging over the north of the county, throughout the month of June, with star attraction this year Dame Kiri Te Kanawa. The Royal Philharmonic is performing, Roy Hattersley will be talking and American blues singer Mary Flower is one of many international names discovering Devon. See northdevonfestival.org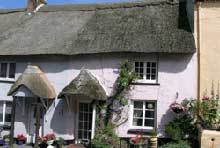 Accomodation can be hard to find at this time but Marsden Cottages report that they have some very nice cottages still available to rent, as this thatched one, Four Rose Cottage, in the pretty village of Bishops Tawton, near to Barnstaple, to sleep 3.
£419 for one week. Find more on their site, www.marsdens.co.uk