The DJ or Tux for evenings
THE DINNER JACKET, or the Tuxedo, as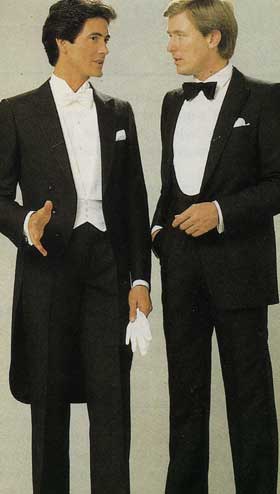 Americans refer to this evening jacket, is the norm for black tie evening occasions, largely replacing the tail suits that once gripped revellers in formality.
They have the late Editor of Savile Row magazine, John Taylor, to thank for speeding release from the old stiff formality, as he the campaigned successfully against the then rule of evening tails in the 1940s and into the 50s, when he was the influential Editor of The Tailor & Cutter. Most of the old guard of Savile Row were not pleased at his intervention but as more relaxed attitudes to clothing were emerging, they reluctantly accepted that dj's were likely to be more attractive to a younger generation.
The origination of the dinner jacket rests with the then Prince of Wales in 1865, when he commanded his tailor, Henry Poole, to make a short jacket for informal evening wear, instead of the usual tails. A visiting American, one James Brown Potter, was invited to dinner, who so admired the short style worn by His Royal Highness that he took a similar one back to wear to his Tuxedo Club in NewYork – and the Tuxedo was born.
Evening jackets have increasingly moved into some daytime occasions, notably for weddings in America. During the Season in London, gentleman in djs with their ladies in evening gowns bring a somewhat incongruous note of distinction to afternoon trains from Victoria, when they travel to the Glyndebourne opera between May and August. But during the Season, Londoners are used to the sight of couples in evening dress making their way to the various events.
Above, classic evening tails and dinner jacket. Rare to see gloves now.
Forties gangster inspiration
LATEST styling in bespoke dinner jackets has shown a tendency towards a 1940s feeling, with some wider lapels, some waist suppression and slightly wider trousers.
Matthew Farnes at Ede & Ravenscroft has made a number of dinner suits with 'Forties inspiration, showing wider, bowed lapels, fuller collars, some drape to the jacket and slightly fuller trousers. Ravi Tailor at A.J. Hewitt is also featuring a slight 'Forties look in current orders and Richard Anderson is another who has revived a 'Forties look in double breasted jackets, with wider lapels. (We forecast this 1940s revival a year ago.)
In contrast, Jasper Littman looked to the 1970s for a recent velvet suit, albeit also showing wide lapels, that he made for a wedding. The customer wanted a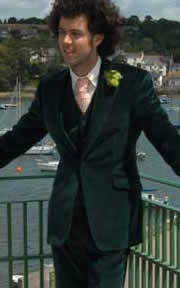 'Seventies style, as pictured here, for a wedding with a 'Seventies theme.
"I find that my younger customers are moving away from morning dress, and want something a little more relaxed, original."
He may also be making a complete wardrobe of clothes inspired by David Beckham's styles, for one devoted fan.
Mark Powell has made lean cigarette style trousers to go with a shawl collared dinner jacket recently, and has also provided a dashing short black evening cape, for the opera or making an entrance anywhere.
Andrew Ramroop of Maurice Sedwell offers the opportunity for evening variety, with Nehru-style jackets in brocade and other ornate cloths, in addition to his classic dinner jackets.
How the Spencer was born
AS AN ASIDE on another evening style, the Spencer jacket, favoured in the Mess and also with trews, had a more flamboyant birth.
Lord Spencer was standing with his back too close to the fire one evening in 1795 and his coat tails caught fire. Having successfully extinguished the blaze with a handy bucket of water, His Lordship surveyed the charred and tattered tails, had them removed – then decided the truncated result was to his liking. The Spencer was born.
ADVERTISEMENT