Gastronomy without the guilt
The Season can prove to be quite an exhausting round of enjoyment – so come August, if not going off in search of birds to shoot, many turn their thoughts to a recuperating holiday.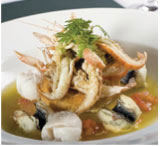 Here's one holiday option that combines gastronomic delights with travelling in style and without the guilt of air pollution. European Rail (www.eRail.co.uk) offers a journey round the food and wine districts of France by first class rail, stopping at some exclusive hotels along the way and taking in some pretty sumptuous meals as well as enjoying beautiful scenery more usually flown over.
The European Rail Gastronomic Food and Drink Tour

covers Lille, Lyon and Tours, stopping at the Grand Hotel in Lille, the Art Deco Grand Hotel Perrache in Lyon and L'Universe Hotel in Tours. First Class throughout, it starts from £855 per person.
There are various other tour options, all offering flexible programmes, including the Swiss Lakes, Norway in a Nutshell, a Grand Tour of Italy and Russian Capitals. See www.Erail.co.uk for details.
Take an Istrian cookery course?
GATRONOMY seems to be flavour of the month for travel themes. Croatia is tempting new visitors this year with its culinary delights, as in holiday deals from Hidden Croatia.
Istria, on the Adriatic Coast, is a particularly bountiful food region, both from the sea and the land, with many local delicacies. Shell fish dishes, wild asparagus, truffles, ember-baked lamb,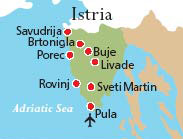 and strudels for sweet tooths are just some of the specialities that may be matched with some fine wines. The many Roman ruins are reminders that this was part of the Roman Empire, which whatever its drawbacks certainly encouraged good wine production.
Hidden Croatia will tailor itineries to requirements in hotel or villa - and will also arrange a cookery course for those eager to learn about Istrian cuisine. Take a week's holiday in a four-star hotel, with 2-day cookery programme, and it will cost around £775 Go to www.hiddencroatia.com for further information.
Latest luxury spa in Thai royal resort
IF ANXIOUS to shed rather than add avoirdupois, then a spa holiday may be just the ticket - but how to choose? Well, the latest addition to the international plethora of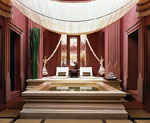 hotel spas is what sounds like a particularly sumptuous example, The Barai residential spa at the Hyatt Regency in Thailand's royal resort of Hua Hin.
Just completed , The Barai offers 8 residential suites, offering the sort of quiet luxury designed to encourage a sense of pampered well-being (as left). Alternatively, the wide range of treatments may be taken by guests staying at the Hyatt. Until mid-June there are some special introductory offers available. www.hyatt.com