Plans to carry on Smoking
The lights go out in London come July 1st, when the ban on smoking comes into force. Judging by already non-smoking Italy, Ireland and North of the Border in Scotland, there is scant evidence that smokers are actually giving up the habit, leading instead to a new breed of hardy outdoor pariahs, and to a bonanza for suppliers of terraces and outdoor heaters to accommodate the smoking addicts. More pollution!
But while cigarette smokers have been the focus of all attention, those who enjoy the more esoteric pleasure of a cigar have received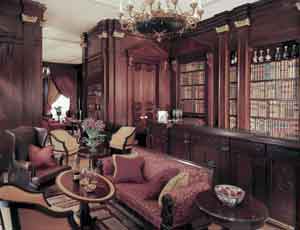 little consideration. Not so, however, among the more salubrious clubs, hotels and restaurants, who pride themselves upon catering for a sophisticated clientele of cigar aficionados.
What to do? Going outside for a quick drag on a hand-rolled Cohiba is hardly an option. Visits to some of London's establishments in this quandary reveals not all have given up the battle.
At the luxury Lanesborough Hotel, favoured by Americans to London, positioned conveniently for Knightsbridge and the West End at Hyde Park Corner, they are still working on plans for an outside terrace. Their Library Bar (above) has attracted cigar smokers with its extensive selection of fine names to go with their fine wine and cognac list that caters to the most sophisticated of palates. Rated by Harden's as the "Best Bar in the World" in 2005, it houses a 'Liquid History' collection of vintage cognacs, some over 200 years old, that is accompanied by a collection of aged and rare cigars.
The Lanesborough has a grand history to go with its grand architecture, which has been carefully restored to recreate the elegance of a 19th century residence. The bar has provided a comfortable haven for those who appreciate smoking and drinking in such surroundings but from July 1 the sweet smell of cigar smoke will be no more. Happily, the impressive selection of wines, apertifs and digestives will continue to offer solace.
Morton's Club, in the enviable position of overlooking Berkeley Square, has no outside space on which to extend a smoking terrace but does have a tiny balcony. It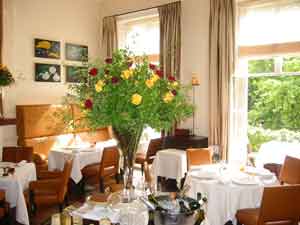 too has an impressive collection of cigars and owner Marlon Arbela also runs MARC Fine Wines merchant business, so prides himself on providing an impressive list of wines and spirits to savour with a cigar. Is the roof an option?
But meantime leafy Berkeley Square beckons. Plans are afoot to run a grand evening do in the Square to mark the sad end of cigar pleasure at table. This will take place on June 21. "It will be a black tie event," we are told, reflecting both the sombre and the formal nature of the occasion.
Morton's is part of the Marlon Arbela Restaurant Corporation which also boasts Michelin-starred restaurants The Greenhouse and Umu, as well as two fine restaurants in the New York.
Not only will its bar and restaurant have to be smoke-free come July but also the private dining room in the basement, created especially for fine wine and cigar lovers.Here, one wall is devoted to 7,000 bottles, jeraboams and magnums of some of Europe's finest, including such names as Château d'Yquem (from 1875 to 1990) and Vega Sicilia Unico. This is accompanied by a full sized cigar humidor with the best of Cuban cigars - but henceforth, the small gatherings in this room will no longer be able to sample its pleasures
At the Royal Automobile Club, grand old establishment in St James, prescient action was taken when the building was given a major refurbishment in 2005. The Grand Gallery restaurant was extended to give an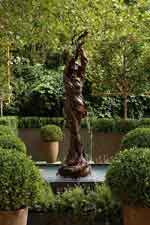 outside garden terrace that extends along to the adjoining Smoking Room – soon to be no more. "So we expect the terrace to become the new 'Smoking Room' ", a spokesman told us. Smokers will be in the midst of greenery and with the gentle sound of this fountain (right). With a good summer forecast, it is likely to become one of the favourite spots in town.
The Royal Automobile Club, once linked to the RAC which was formed to give roadside assistance to drivers but is now quite separate, offers an extensive range of services to members. Elegant dining rooms and bars, full sports facilities including one of the best swimming pools in town and another extensive clubhouse out near the Epsom racecourse all help make it one of the most agreeable clubs. And it is also very near Savile Row.