Formal wear from Sports wear
IT IS one of those interesting quirks of costume history that has formal morning dress largely abandoned apart from in the arena from which it originally emerged - that of the horse.
For the tailcoat's ancestry is plainly evident in its cutaway front and the practicality of its tails, which allowed a rider to sit elegantly on a horse,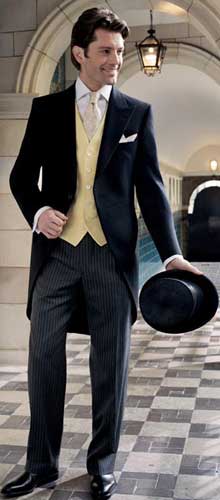 the split halves of the coat divided over the horse's rump. These tails might be buttoned up at the back to protect them from being mud spattered - hence the two buttons that remain as a reminder on the back of a dress coat today.
Now, morning dress is worn for some weddings, a limited number of formal evenings, and for the high days and holidays of racing's Royal Enclosures. Despite protestations to the contrary, men do seem quite comfortable and relaxed in this ensemble, and indeed it affords an elegance and a kindness to figures that otherwise might not be considered in the best of form.
With racing attracting increasing crowds and more and more wishing to dress for the occasion, orders for morning dress have received a boost in Savile Row. Kent & Stafford report young customers opting to have a fully bespoke outfit, and Ede & Ravenscroft, who run a very successful hire service in formal wear, are also making more bespoke versions for customers who enjoy the originality and quality that bespoke offers.
Stephen Lachtor at Kent & Stafford tries to steer customers along traditional lines but with some originality. "I like to suggest something a little different for the waistcoat," he explains, showing a double breasted vest in a camel cashmere. For this Ascot, he was finishing a coat, trousers and waistcoat in a black self stripe diagonal cloth from Smith Woollens.
At Ede & Ravenscroft, Matthew Farnes has been working on an elegant black coat, rather Edwardian in styling, to go with a pale cream double breasted waistcoat that has an unusual front seam to allow for a smooth fit beneath the shawl.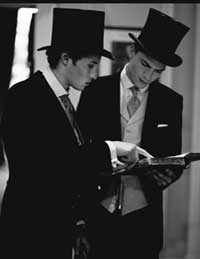 Coat: Generally single-breasted, peaked lapels, sometimes with braided edges and pockets to add a dressy touch, in black or grey.
Trousers: With grey coat, the trousers must match. With black coat, trousers may be black or grey, or striped black and grey.
Waistcoat: Grey with grey coat, black or grey with black coat, or fancier designs may give originality.

Shirt: Plain white best, turn down collars (not wing), double cuffs.
Neckwear: A straight ordinary tie is the norm now, though the Ascot in black, white or grey is also correct.
Shoes: Black, plain toed, calf preferably, but suede is acceptable, as is grey to tone with a grey suit. Socks to match shoes.
Handkerchief: Plain white in breast pocket.
Hat: Top Hat of course, which may be carried, though must be worn in the Ascot Royal Enclosure It should be grey with a grey coat, but grey may be worn with a black coat.
Plain carnation boutenniere may be worn (no fern or trimmings!) flush into buttonhole.