Brooklands Cavalcade Rides Again

For motoring enthusiasts, the high spot of the Summer will be the Brooklands Centenary Festival taking place in June.
Brooklands is where British sports motoring began. Built by Hugh Locke King, it opened in 1907 and was the world's first purpose-built circuit. It went on to become hugely popular, drawing large crowds, not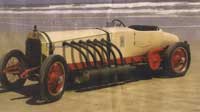 just for car racing but also for motor cycle racing and air displays, and saw many speed records established.
In its early days, procedures were modelled upon those established for horse racing - cars assembled in the 'paddock' were 'shod' with tyres, weighed by the 'Clerk of the Scales' for handicapping and drivers were even instructed to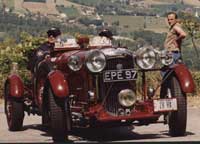 identify themselves by wearing coloured silks in the manner of jockeys. All the famous aces of the day appeared here, including Sir Malcolm Campbell, and the principles which still govern motor racing today were established on this track.
Car and aircraft factories became sited alongside it and when the track closed for the final time at the outbreak of World War ll in 1939, it was in these factories that many of the Hurricane and Wellington aircraft flown in the war were made. Production continued after the war with a line of civil aircraft, culminating in Concorde – more built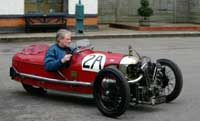 here than anywhere else.
Since it opened in 1991, the Brooklands Museum has attracted motoring buffs from all over the world, and the splendid old models housed here as well as modern developments will be on show at the Festival. There will be a re-enactment of the Grand Opening Cavalcade that was a feature of the old track meetings, showing off some of these great cars, as well as the opportunity for owners of other old models to take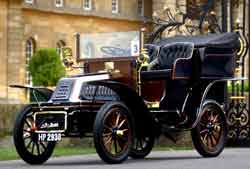 part, and a range of other entertainments.
Find full details of the programme over the 2-day event (June 16-17), with a Charity Ball on the 15th evening, and order tickets on www.brooklandsfestival.co.uk
Try a Trike Bike for the Environment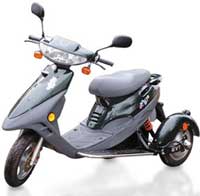 THE ARMY of cyclists continues to grow, driven not only by pedal power but ecological and economical promptings. And ultra-environmentally friendly is this Powascooter Trike from Powabyke.
Run on rechargeable batteries, with a range of up to 25 miles, and top speed of 28mph, its 3-wheels may help give a sense of greater stability and robustness in traffic. Smooth running, free of tax and the congestion charge, it may be recharged at a cost of 8p. A snip at £2,950. See www.powabyke.com for this and other models.