The classic appeal of a Blazer
AT one time, a navy blazer and flannels was an ensemble that marked out an Englishman at leisure. Whether for watching cricket, a pint at the local, a spin in the car or strolling along the Promenade des Anglais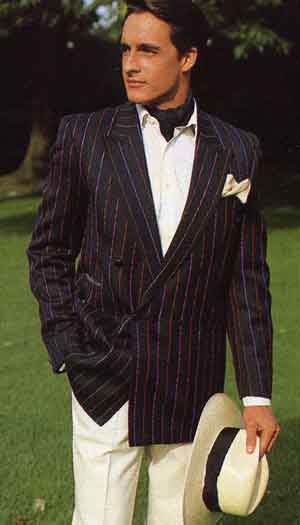 at Nice, his idea of casual dress was a tailored blazer, neat shirt and tie, with well pressed flannels, maybe a boater or a panama worn firmly upon his head. In such, he would defy the heat of the midday sun.
Today, as semi-naked young and not-so-young men stroll along Piccadilly and other town thoroughfares, the blazer and flannels brigade may seem hopelessly outmoded – yet for certain of the Season's events and inner sanctums, and indeed for many other elegant casual occasions, the blazer is still a man's best friend.
This navy jacket, usually double breasted, often with brass buttons and traditionally sporting a crest upon the breast pocket, never really goes out of favour There are various claims for its origins but it does not, as often stated, derive from the HMS Blazer of the mid 1800s, although it does indeed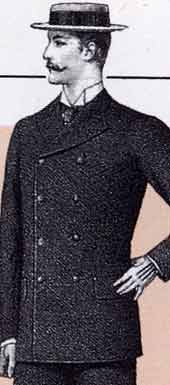 follow the style lines of a jacket long worn by sailors, the Reefer (as shown left).
In fact, its name refers to the 'blaze' of colour observed in the bright red flannel jackets worn by members of the Lady Margaret Boat Club, Cambridge, in the 1880s. Other under-graduates referred to these garments as 'a real blazer', and the term blazer then went on to encompass other boating jackets which might be even more colourfully striped, and with boating crests on their breast pockets.
Today's blazers happily mix the double breasted, navy appearance of the traditional sailor's reefer with the more colourful designs of the boating clubs; they may be plain, they may be striped; they may be double breasted, they may be single; they may be button-two, three, four, six, even button-eight; brass, plain or leather buttoned – but the end result is a jacket that is undoubtedly a Blazer.
The Lord's Rule Book on Dress
The Long Room at Lord's is the hallowed inner sanctum of the home of cricket (see also Sport page) and has a dress code that is rigorously enforced here, as in the rest of the Pavilion building. We reprint part of the Rule Book below:
"Whilst in the Pavilion, gentlemen shall wear ties and tailored coats and
acceptable trousers with appropriate shoes. Zip-up golf-style jackets are not
permitted. Gentlemen will not be admitted to the Pavilion, including the Pavilion concourse, unless, on entrance, their dress conforms to this Regulation. However, coats and ties may be removed on the Pavilion concourse, and outside balconies, but must be replaced for entry to the Pavilion building. Ladies shall wear dresses; or skirts or trousers worn with blouses, and appropriate shoes. Dresses and blouses may be sleeveless.
Religious, traditional or national dress, or service uniform, is permitted.
However, the following items of clothing are prohibited; jeans and their close relations, leggings, jodhpur-style trousers; t-shirts; track suits; training shoes; plimsolls; flip-flop shoes; denim clothing; and overalls."

Rules for areas outside the Pavilion are slightly more relaxed but the Book maintains sternly:
Admittance to the Members' Friends' Enclosures will also be refused to
anyone wearing dilapidated or offensive garments of any kind. Bare feet, bare torsos or bare midriffs are not permitted under any circumstances."

Quite right too. We take particular delight in those "close relations" of jeans being barred. Would-be visitors addicted to dishabille are, of course, allowed into the hoi polloi ranks of the general stadium.

Many members stick to the classic blazer, white flannels, shirt and the MCC tie – given a choice of the flamboyant orange and lemon striped tie or the formal 'town tie' in dark blue pattern with a small MCC motif in red and gold.