Make mine a Welsh!
Wales, a country with a long established reputation for alcoholic abstinence and a therefore unsurprising sobriety of character, is certainly not one associated with fine whisky, wine or liqueurs. We were somewhat stunned, therefore, to be served with a single malt whisky from a Welsh distillery.
The occasion was a 'Christmas in July' event, at which a gathering of Welsh companies were presenting Tastes of Wales, in an assortment of gift ideas. And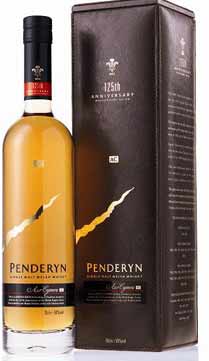 amongst the smoked specialities, organic cheeses, handmade cakes and treacle toffee packs was the Penderyn Single Malt Whisky. And very nice it is too.
The Scots may well think they have an historic monopoly on the production of whisky but in fact, as with the other Celtic countries, Wales has a long history of producing spirits. Most significantly, it was one of the Williams family that ran a small distillery in Pembrokeshire in the early 1700s who later emigrated to the US and helped found the bourbon whiskey industry there. Indeed, some fine bourbons still bear the Williams name.
In what is now described as the "chapel building mania" of the late 1800s, the temperance movement gained ground. This, coupled with the sad demise of Robert Willis, a leading figure in the Welsh whisky industry, who fell under a horse and cart, brought an end to distillation in Wales.
But late one night in 1998 in a South Wales hostelry, a group of enthusiasts decided to revive it. Unlike many ideas generated in such convivial surroundings, this one took off, and in 2004 the first product of their endeavours was launched, on St David's Day, in the presence of Prince Charles and to critical acclaim. It has gone on to receive some prestigous awards.
It would make an interesting gift for a whisky connoisseur and is very stylishly bottled and packed. Look for in Fortnum and Mason and Thresher off-licences, price £27.23 for a 70cl bottle.
Set amidst spectacular scenery in the Brecon Beacons National Park, the Welsh Whisky distillery also produces Brecon Five Vodka, Brecon Gin and Merlyn Welsh Cream Liqueur. And for rugby enthusiasts, there is the special Welsh Rugby Union bottle of malt, celebrating the 125th year of the Union. This has a 50% ABV, and the bottle comes in a leather case that details some of the WRU history. Price of this £106.38 plus VAT. See online at www.welsh-whisky.co.uk
Port - the young sailor's new drink?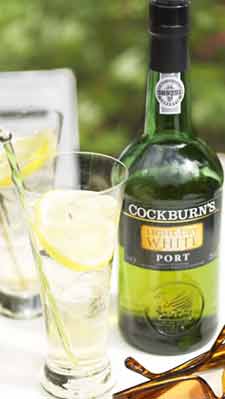 Laying down a pipe of port for when a young man came of age is an old tradition that has now sadly fallen into disuse – partly because of cost, partly because of the difficulties of storage and no doubt partly because giving a young man the equivalent of 115 gallons of port no longer seems a sensible gift. And anyway, today's young men don't drink port, do they?
That last point is being addressed by one of the leading port names, Cockburn's. Not only are they promoting their various red ports but also the white, which for some strange reason has never become well known in the UK. It is an excellent aperitif, served chilled or with ice (as left), or with tonic.
And prompted by port wine's long appreciation in naval quarters, Cockburn's have given Supporting Sponsorship to this August's Cowes Week, making it the Official Port of the event, and with its boat, Red, participating in the competition. A whole host of new young sailors would be able to discover the delights of Cockburn's range in the Port-Hole bar during the week-long activities, as well as land-lubber spectators.
But it needs to be treated with due respect. Port is a fortified wine and packs quite powerful punch. Standard port should be drunk within a year or two of purchase, and traditionally, once opened, was meant to be finished at that sitting. Vintage Port, on the other hand, should be laid down for at least another 10 years after being bought – though once decanted, is best finished off within 24 hours, preferably with help. Remember always pass the decanter to port - left. It should be served in a narrow wine glass, half filled, although poured into a Stilton cheese and topped up as required is another way of enjoying this rich tipple.
Available in most supermarkets and off-licences, from £8.29 per bottle, or for serious port lovers, there is the vintage 2004 , which should be laid down for 10 years, price £27.