NIGHT TIME'S THE RIGHT TIME FOR DRESSING UP
Balls are not what they were. White tie and tails, à la Fred Astaire, are no longer the prerequisite for an active social life, as most grand occasions now settle for dinner jackets.
The change to more comfortable evening attire set in after the first World War, as shown in TV's Downton Abbey, with Lord Grantham incurring the Dowager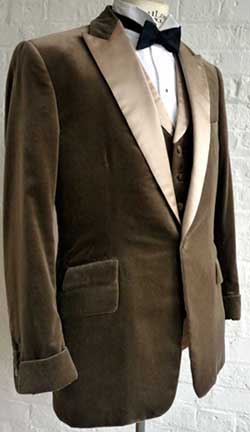 Duchess's ire by wearing a dinner jacket rather than tails for dinner. But tails for formal evening functions continued up until after the second World War, when the then Editor of Tailor & Cutter, the industry's bible, swung his not inconsiderable weight behind a swing to dj's, much to the chagrin of the Savile Row establishment.
Since then, we have witnessed Prime Ministers turning up for formal City events in lounge suits, as the trend to less formality has continued in all spheres.
Yet Savile Row tailors report an upsurge in demand for morning dress, fuelled by City bonuses and a younger generation keen to experience formal attire for Ascot and other such occasions.
Evening tails have yet to show a similar resurgence but as more young men appreciate the quality of a well tailored garment, so the party season sees tailors beavering away at this time of year,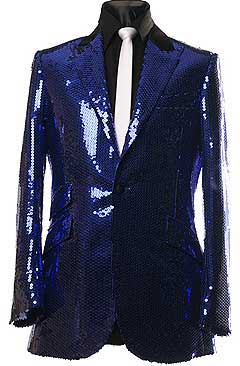 finishing off late orders for dinner jackets and dinner suits. Tails may follow if events organisers start stipulating them, but they do of course take longer to make and are costly.
Black is the new black at most Savile Row establishments but tailors are prepared to make variations, where in the past customers bent upon something more colourful might have been politely shown the door.
Richard Anderson, for example, was surprised at the orders prompted by a sequin dinner jacket that he used for a window display, in colours as well as black.
Timothy Everest has made a splendid red velvet jacket, in addition to this three piece dinner suit in a brown velvet, (below) with contrasting revers on the jacket and vest, sleeves with cuffs.
He acknowledges an Edwardian influence here. The Edwardian style era extended from around 1901 to 1919, beyond the actual reign of that great style figure, Edward Vll. It was his adoption of a short smoking jacket to be worn for informal dinners ( made by Henry Poole) that sowed the seeds of the tailcoat's demise. But for most evening occasions, tails remained de rigeur and in black of course. Lady Grantham would have been doubly affronted by the colour of this short style, but it offers an elegant alternative to black.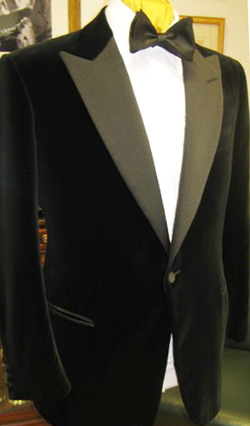 Tom Baker makes some sharply shaped styles in seqins and black satin suited to rock'n roll devotees. Sequined dinner jackets may seem showbizzy but for less formal evening events they are enjoying success among those who want to make a sparkling entrance. Tom Baker teams a lean white tie with this blue version, above, which has pronounced shape and black velvet collar.
But the classic black or midnight blue jacket is the mainstream choice for evening, usually single breasted, but with db's enjoying new interest, peaked lapels in favour, shawl collars also popular.
This example of a classic black dj, left, with immaculate peaked satin revers, comes from Steven Hitchcock.
More pictures are included in the Winter issue of Savile Row Style Magazine.