FOR GIVING OR RECEIVING
The items presented here are aimed just as much at the man who fears Santa will not bring him what he wants as at the dedicated present-buyer. A little self indulgence may be called for.
This delightful Mini Goodwood is a case in point.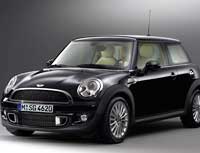 A man may have to recognise that it is unlikely anyone else is going to buy it for him, so he could kick off the present-buying spree by buying it for himself. It is a special edition produced in collaboration with the Rolls-Royce design team, made to the same exacting standards of RR.
Powered by a 1.6-litre four-cylinder engine with twin scroll turbocharger, it has the look and feel you might expect from such a collaboration and costs just £41,000. www.goodwood.co.uk
To go with the Churchill spes (see p6), there is a new officially sanctioned Sir Winston Churchill pen. From that fine British pen maker, Onoto, it picks up on the

great man's love of pinstripe suits, with a pinstripe pattern, and each one bears a facsimile of his WSC signature.
A fan of Onoto pen's, Churchill asked his wife to send him a new one when he lost his during the first World War. Available in a range of nib widths, each pen comes boxed with a booklet on his life. Price £360. www.onoto.com
One of the nicest new radios on the market, Tivoli Audio's latest Pal+ has all the clever features and stylish design of the original Pal that won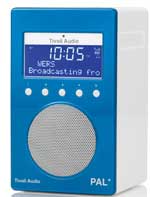 it awards, plus more.

This model receives DAB (Digital Audio Broadcasting) DAB+ and DMB (Digital Media Broadcasting). Portable, rechargeable and weather-resistent, it packs a wealth of modern functions into its compact size (just 15.88 cm high x 9.37cm) and is available from high street stores and online at www.tivoli-audio.co.uk, price £249.
For someone who aspires to a palace, a gift of membership that gives access to the Historic Royal Palaces may be the next best thing. This includes Hampton Court Palace, the Tower of London, the Banqueting House, Kensington Palace and Kew Palace. Membership gives unlimited access all year round and is from £43 at www.hrp.org.uk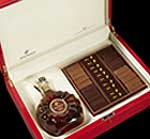 A splendid treat, this elegant lacquered box contains a bottle of Remy Martin's XO teamed with chocolates made especially to complement the cognac. Presented at a tasting in London at Las Maison du Chocolat in Piccadilly, it is branded as the 'Mysteries of the Angels' and will be appreciated by chocolate and cognac connoisseurs alike. Available from Harrods, price £275.
Buying a work of art for someone else can be tricky, so perhaps it is best to buy it for oneself – or buy an art gift voucher. The Mall Galleries, hard by Buckingham Palace, is home to the Federation of British Artists and provides gift vouchers to cover any of the works it presents. These range over all styles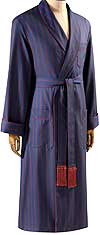 and subjects by the Federation's artists, priced from £500 to £50,000, with gift vouchers available to any amount. Works may also be commissioned. www.mallgalleries.org.uk
A silk dressing gown used to have overtones of seduction but since the art of seduction gave way to less sophisticated mores, it has languished somewhat, out of favour among a younger set more prone to sarongs. But this luxury version by Derek Rose remains a desirable object for those men who always like to be well dressed. Trouble is, it may be purloined by the lady of the house. In cashmere and pure wool as well as silk, prices from £269.99, www.derek-rose.com
Those quality leather goods people Ettinger have come up with a smart little case

in which to keep a Blackberry Playbook. Designed in partnership with Blackberry and Winkreative to celebrate the launch of the Playbook, it costs £226.www.ettinger.co.uk
It may be a trifle late to order bespoke cufflinks from top links name Longmire but they do have a great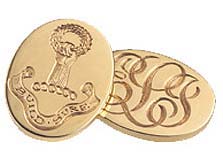 selection available online or at their shops. The bespoke option normally takes from 8 to 16 weeks, if they are hand enamelled, but the hand engraved designs, as here, take from 2 to 4 weeks, so just could be ready for Christmas. Personal crests or initials may be engraved, onto white or yellow gold or silver. www.longmire.co.uk
Bird-watchers and any other kind of watchers will find

these Swarovski Optik binoculars bring everything into sharp focus. Compact, light and benefiting from Swarovski's long experience with cystal optics, they are available in 8x or 10x magnification, various colours, in stores now priced from £790