BEAUTY FOR THE EYE
Did Wellington and Napoleon survey one another through their spyglasses across the battlefield of Waterloo? We'll never know but Simon Palmer, director of C.W. Dixey & Son, likes to think that they may have, using telescopes that his company had made for each of them.
C.W. Dixey can boast a heritage to rival any in Savile Row, dating back to 1777 and including such illustrious figures as the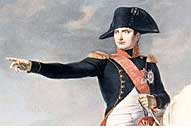 Emperor of China and at least ten British prime ministers among its customers, and holding no less than 15 Royal Warrants from George lll onwards.
Initially makers of precision mathematical and optical instruments, the company became the foremost spectacle maker, supplying the gentry from its premises in Bond Street. Such was its devotion to satisfying its customers in the early days, that a cow was kept on the premises to provide fresh milk for those seeking refreshment. (Could the swing back to natural foods and drink see this making a come-back?)
Now, Simon Palmer has relaunched the company with a compact collection of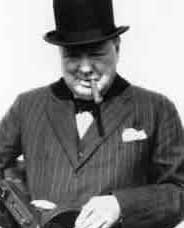 spectacle frames that are objects of beauty, immaculately made and finished, to the same high standards as in the past. This is the Chartwell collection, inspired by another loyal customer, Sir Winston Churchill, and featuring some of the shapes that he preferred.
"I decided to take the company back to what it used to be," he explains. "It had become a small chain of optician shops owned by my father, but when he died five years ago, we decided to sell them and revive the name as a maker of fine spectacles."
It has taken him two years of research and organisation to bring the company up to date. In that time he has discovered a rich store of records from famous customers, including notes from Churchill, and traced an exquisite jewel-studded telescope made for the Emperor of China.
"Its fantastic," he says with great enthusiasm. "Though we lost much material when the Bond Street premises were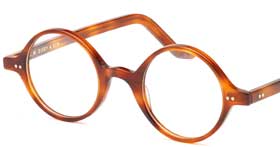 bombed during the War, I've managed to trace quite a lot of our history and it is fascinating."
It has come through recessions and wars, survived nefarious actions by staff – a Mr Grice turning the Bond Street premises into a gambling den around the turn of the 19th century – and recovered from dishonest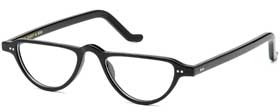 activity that nearly destroyed it in the 1990s.
Now, with Simon Palmer at the helm, it is taking its place at the forefront of exclusive eyewear once more.
The new collection features just 8 designs, six intended to be unisexual, two more feminine. It replicates the shapes ordered by Churchill, each one handmade in a very light material with the look of tortoiseshell.
Churchill discovered Dixey when he was still a pupil at Harrow school and remained a customer throughout his lifetime. He ordered spectacles for all his activities – painting, reading, speech-making, card playing – and specified how many dots should be incorporated into the arms of the frames so that he could identify them. These new Chartwell frames continue the dot tradition, with two white dots on the temple tips of the arms now their signature.
"These are truly handmade," emphasises Simon. "They are for those who want the very best, for those who are connoisseurs of spectacle frames."
If the frames take their inspiration from one great leader, the cases are inspired by another, Wellington. The Iron Duke specified the type of slim case he wanted for his Dixey specs, and the modern ones emulate this, made in the finest of leather and carrying Dixey's coat of arms.
Launched in September, the collection is to be found in some independent optical practices and optical boutiques.
"My concern was to stay true to the original ethos of the company, to make exclusive, beautiful eyewear," Simon says. " I think we have succeeded." www.cwdixeyandson.com