IN THE DRESSING ROOM
THE FOUNDATION of any room is, literally and metaphorically, the floor, and the dressing room's air of glamour was set by a carpet or rug of substance and beauty. A wonderful range of pieces that will fulfil both functions with ease is to be seen at C. John of South Audley Street where Turkish rugs sit happily alongside Aubusson and Savonnerie designs from France. But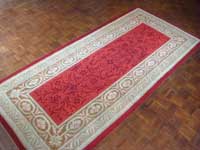 my favourites are the late 18th and early 19th century English Axminster designs which work wonderfully well alongside neoclassical furniture in the Adam tradition.
Another prerequisite for a dressing room setting is a good mirror or two. Dressing table mirrors, particularly Victorian examples, are very undervalued by the market at the moment and can be bought extremely cheaply. However good quality wall mirrors (especially gilt wood pieces) are still very desirable and work well in both modern and traditional interiors.
A good choice for this project might be an English Regency period convex mirror. An original mirror plate provides a softer reflection than a modern piece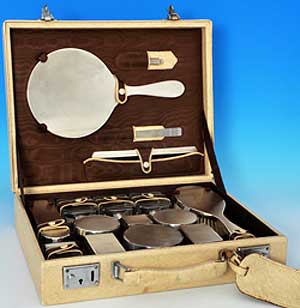 and the effect is very pleasing indeed. Mirrors were extremely difficult and expensive to produce during the 18th and early 19th centuries and therefore good surviving examples will always be desirable. Dealers such as Ronald Phillips of Bruton Street specialise in top quality pieces but, at a more modest level, almost any furniture or decorative antiques dealer will have something suitable amongst their stock.
The dressing table itself has traditionally been seen as a piece of feminine furniture but, during the 18th century, dressing chests for gentlemen were also produced. These are very practical in a modern home, resembling as they do small chests of drawers. Typically the top drawer will contain a dressing mirror and space for various sundries such as hairbrushes, jars of lotions and razors.
However for the gentleman who would prefer a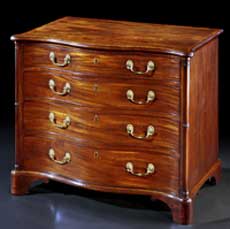 space-saving solution, the late 19th or early 20th century dressing set is the perfect solution. The best examples came in leather, canvas or wooden cases and were silver, tortoiseshell or ivory mounted throughout. Complete sets by good makers can be expensive but it is relatively easy to build up composite sets at auction for a fraction of the price. Do bear in mind that most sets were monogrammed, however, and that ladies sets are much more common than those made specifically for gentlemen.
Every man needs a shoe horn and, whilst the likes of Abbey Horn produce beautiful modern examples, there is nonetheless something special about an antique example. Solid silver shoe horns are very easy to find but, as with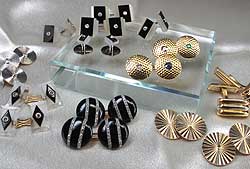 dressing sets, most surviving examples are rather feminine in their design. I. Franks has a suitably classic masculinand version that would make a lovely gift for either sex.

Even if a gentleman has no real interest in the wider world of antiques, a pair of cufflinks or an antique dress set is almost certain to make a perfect gift. For some the winter is a season of black tie parties and white tie balls and therefore a dress set becomes an attractive option.

For those who do prefer to match their studs and links, do be aware that it is very rare to find an antique set with four shirt studs en suite as three were more commonly used until the decline in waistcoat wearing. It is possible to have a dress shirt made that requires only three studs to fasten and it is almost invariably cheaper to adapt your shirt to your dress set than the other way around!

Cufflinks, meanwhile, come in all shapes and sizes and to suit all budgets. From an attractive pair of lightweight gold ovals for £50 to a pair of Cartier or Faberge heirlooms for £50,000, there are plenty of options to consider. Silver and enamel links are perenially popular for the daytime and after dark gem-set pieces can look spectacular.

Antique silver hairbrushes are a particularly good buy at the moment as they are hugely undervalued. It is possible to have them re-bristled by one of the specialist companies on the market (Kent Brushes offers this service for example) meaning that any perceived hygiene issues are overcome and the buyer is left with a functional antique that will have been preserved for a future generation.

The last few years have seen a slow but welcome revival in the number of hat wearing gentlemen in London and other major cities and, as a result, the hat box might be a welcome gift. Modern versions are almost invariably made of cardboard (with the exception of the leather top hat bucket) but there are many pleasing antique examples on the market. Materials range from papier mache to toleware (painted tin), leather to treen (wood). In most cases linings can be cleaned or replaced when necessary but the patina of age can be retained on the outside to pleasing effect.