TAILORING FOR THE SEXES
Roubi l'Roubi is that rare beast, a man as capable of making men's clothes as women's.
To those unfamiliar with the different disciplines of weight, construction and feel required for the two sexes, this may seem no more than a good designer/tailor should be able to do.
Yet there are some fine bespoke tailors in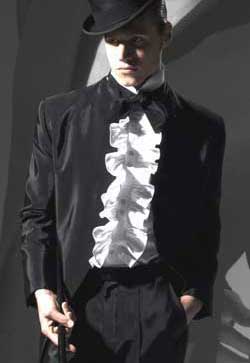 the Savile Row enclave who remain shy of undertaking work for the fairer sex. And Roubi's work certainly has nothing to do with the unisexual approach favoured in casual ready-to-wear.
In his elegant new premises in Bond Street, a man's tweed shooting suit, a velvet evening jacket and a melton cape hang side by side with a ladies black barathea suit, a delicate cocktail dress and a fur-trimmed jacket. Roubi switches between them, relishing the mix and appreciative of the customer variety it gives him.
Since launching his own label in 2004, this talented designer and maker of clothes has progressed steadily. He has collaborated with other exclusive brands in Mayfair to create special shooting collections, countrywear and evening lines. His personal interest in music has seen him become established in that area, tailoring outfits for leading conductors and musicians that allow the ease of movement they require. And he also has strong links with the art world, due to his own painting and collecting interests.

Now he has moved into this light and spacious showroom just around the corner from Savile Row to concentrate upon developing his own brand name.
"I think my customers are fairly equally divided between men and women," he muses. "And I am finding more interest in tailored outfits from the ladies - they want a structured look. All our tailored pieces are fully canvassed."
He is currently enjoying a tweed moment, using a variety of tweeds from Johnstons of Elgin (recently awarded the prestigious Gold Award for Exports from UKFT, see right). These are used for some of the many shooting outfits he creates.
"The country house scene is very important for me," he explains. "Not just for shooting clothes for men and women but for the other clothes that these customers then go on to order. These are people who dress for occasions. They come to me first for shooting wear, either by recommendation or perhaps having seen what I am wearing at a shoot, and then come for other garments."
And men come particularly for evening jackets.
"They go to plenty of evening receptions and so require a variety of styles. They don't just want a black dinner jacket. My Emir jackets are popular. I made one recently in velvet and teamed it with satin trousers. And there's another in a colourful tweed with leather trim."
He looks for small exclusive suppliers to complement his designs and is particularly delighted with Wendy Keith, who makes wonderful men's shooting stockings – called stockings but to the layman, socks. These hand-knitted, crocheted and embroidered lines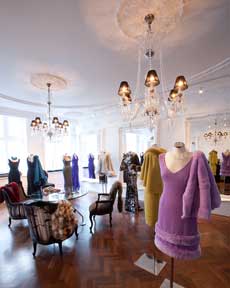 come in colours to coordinate with the tweeds he is using.
He produces a collection of around 20 garments for each season, to give customers ideas as to what they may order.
"Trouble is, these samples get bought," he admits with a smile. "Some customers just want it there and then. This particularly applies to the cape styles for ladies with fur trims. Then we have to make additional samples as well as the bespoke items that are ordered."
His ladies evening dresses are designed for those who like attention - glamorous, extravagant creations, one of the latest a confection of feathers. By contrast, a ladies tailored evening suit, in a very light silk material supplied by the customer, shows off his tailoring expertise, with the material backed by a lighter silk to give stability in addition to its canvas foundation.
Setting up the salon has taken up much of his time, his attention to detail evident in its refurbishment in classical style. It also provides a workroom for his cutting and fitting – "Oh yes, I remain very much hands on," he emphasises. "I will always do that."
"I have other hopes for the future – I would love to do costumes for an opera. But for now, I must concentrate upon making the Roubi l'Roubi showroom a modern-day salon where my customers may relax, enjoy the surroundings – and of course appreciate my designs!