RISE OF THE SWEENEY
Space is increasingly at a premium in Savile Row, as those anxious to hang on to the coat tails of the real tailors move into the enclave. This means that what has been referred to as the Golden Mile is spreading its tentacles ever wider.
Standard bearers of its excellence have long existed beyond its immediate environs, of course, with such star names as Edward Sexton, Timothy Everest and Mark Powell choosing to be separate from the Row. And now new young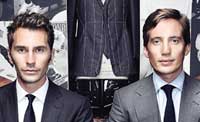 companies are either favouring fitting facilities within the Row and having their premises elsewhere, or opting to establish their business in a nearby area. This has the advantage not only of more reasonable rents but usually more spacious premises, both to the advantage of customers.
One such company, Thom Sweeney, is located not far from Savile Row, in the northern end of Mayfair. Their corner site provides workroom, fitting, showroom and office space that some of the Savile Row names would envy.
Notwithstanding the cachet of a Savile Row address, messrs Thom Whiddett and Luke Sweeney, the duo behind this name, have established themselves here in under 5 years. Mainly by word-of-mouth,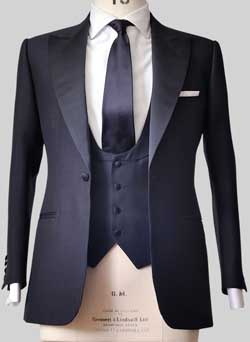 they are recognised as providing a proper bespoke service in the Savile Row tradition, with perhaps a younger take on styling.
That's not surprising, as they are young. Thom, the tailor, is 31 (above right), Luke, more responsible for the made-to-measure side, 32. Thom oversees bespoke work, having learnt the craft at Timothy Everest, under the tutorage of longtime Savile Row stalwart, George Crossman.
"I came to London when I was 19 and joined Esquire magazine. Sent to interview Timothy Everest, I ended up doing work experience there and then stayed on. George was my mentor."
He and his partner, who also worked at Everest, are now passionate about tailoring and style. Customers who have sought them out include a disparate mix of young City workers, those in property, media, film and music, but plenty in older age brackets as well - " some in their 70s, even 80s,' says Luke.
Some have come on from Savile Row, looking for a little more innovation. "We try to take on what they have liked in their suits from Savile Row and then provide a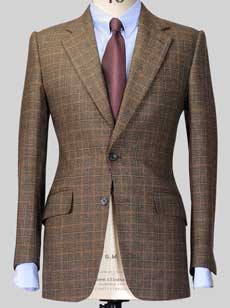 little of our own interpretation. We listen to what they want and offer some advice."
Though this may seem a standard requirement for a bespoke service, their own style may well instil enough confidence in their customers for that advice to be taken. They are walking advertisements not only for their tailoring but for style, showing a lean, shapely line in jackets, slim trousers, and with Thom wearing an immaculate example of a horseshoe vest with shawl collar.
The Thom Sweeney line is slim, with a high armhole and roped shoulder, usually two-button, slim trousers, and a coat construction that gives a soft, supple finish. "We looked at some Italian tailoring," admits Thom. "We liked the lighter, more comfortable feel. So we use a softer, though full, canvas, and slightly thinner shoulder pads."
This softer approach is particularly evident in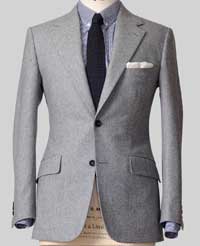 the unlined jackets they have made. Separate jackets and trousers are an important part of their business, both in bespoke and made-to-measure. Bespoke orders account for around 60 per cent of their trade, and growing, with made-to-measure customers often graduating to bespoke.
"There's interest in db suits," Luke reports, "and trousers are slimmer. The db's are shapely, so they have a modern look."
But whilst they aim to offer an innovative approach, both partners are respectful of Savile Row traditions, with the support of head coat maker John Theodouro, who has had long experience in the Row. And they are committed to encouraging new young tailoring talents, with trainees playing an important role in their workrooms.
For now, they have no particular game plan for future development, content to consolidate their success to date. But they are already making five trips a year to New York, and for the first time this year Thom went to Shanghai to fit customers who had previously come to London, and who set up other contacts for him in the city.
"We are still building the foundation," explains Luke.
So they have mature heads on those natural shoulderlines. Mix this with tailoring excellence, business acumen and marketing savvy and the Thom Sweeney team seem destined to establish a tailoring brand that will take the Savile Row traditions into fresh pastures. Outside the Row they may be, but of the Row's ethos they most certainly are.
Footnote: The Sweeney, the highly successful TV cop series, took its name from rhyming cockney slang, using the Sweeney Todd barber - Sweeney Todd - Flying Squad.