GRANDEE GOES PUBLIC
Known for being aloof, the grand tailoring house of Anderson & Sheppard hasn't exactly bared its soul in a new book just out but has revealed more of its intimate workings than ever before .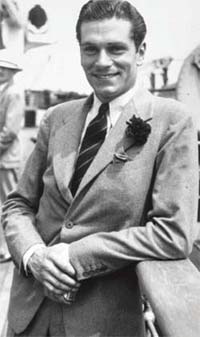 'A Style is Born' reveals the rise and rise of a tailoring institution that has exercised great influence on the rest of the Row and on men of style around the world.
The first ever book devoted to the company, it explains the start of the famous soft drape that is the A & S signature, a revolutionary change at the time in the Savile Row of the early 1900s.
And it goes on to cover, largely by a wonderful selection of photographs, the many rich and famous customers who were fans of this signature line – and those who still are today. It shows the back workrooms and fitting rooms, the trimmings and ledgers, to portray the character and history of the firm in a way that but a few short years ago would have been unthinkable.
Anderson & Sheppard has long been looked up to and respected by the tailoring trade but was always known to be aloof, reclusive, and certainly never welcomed the media through its portals.
Much credit for its change of attitude in recent years must go to Anda Rowland, joint managing director with head cutter John Hitchcock since 2004. She has helped bring the old firm into the modern world, without diminishing its traditional character. And despite having to move off Row in 2005, due to redevelopment, Anderson & Sheppard is now as successful as ever and welcoming a whole new generation of customers as well as keeping the old ones.
Nothing could illustrate its change of heart more than the fact that the book not only reveals past customers but has observations from current ones. These include one quote that sums up a bespoke experience - 'There is an indescribable pleasure in putting on an article of clothing that fits, that moulds to one's self, and that simply feels good. In a world where catchphrases are bandied about with little thought to their true meaning, clothing like this represents the true meaning of luxury'.
Another reflects the A & S attitude of the past - 'Bringing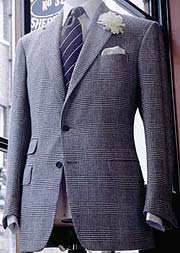 in one's wife was not done, unless she promised to keep mum'. And a customer who made an inappropriate request was met with a polite 'Are you asking me to make a Rolls Royce with the front of a Mercedes, sir?'.
This mighty pictorial tome is timely. With a reappreciation of classic tailoring and quality clothes at a younger level as well as in older men, it was appropriate that light should be shone on one of the great tailoring names. And for fans and those who aspire to Savile Row style, it is a book packed with pictures that cover the full gamut of the tailoring craft.
Edited by Graydon Carter and Cullen Murphy, it is available at Anderson & Sheppard, price £50.