WINE FROM THE DEAD OF NIGHT
Far from the bucolic image of happy, sun-drenched peasants picking plump grapes in a verdant landscape, Icewine comes from frozen fruit plucked by frozen fingers in the dead of night, in the depths of winter, the harvest needing to be pressed immediately to extract the precious liquid from each berry.
Such viccisitudes have been accepted since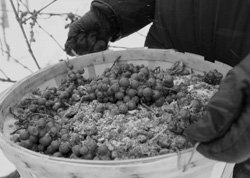 Roman times in order to create a wine with an intense flavour, and have meant that the end result in the bottle is pretty pricey.
But as with other wines, the New World is adding to the sum total of Icewines available, with Canada the source of particularly fine examples.
Somewhat overlooked in terms of

being a wine producing country, Canada has just the right climate for Icewine grapes to thrive. With hot summers and cold winters, it produces fruit that is ripe for the plucking in temperatures -10 C. Frozen on the vine, the juice of the grapes is more concentrated and flavourful, just one drop squeezed from each grape. And the end results produced by the Peller Estates Winery have garnered a bunch of awards at the world's top wine competitions.
Established in 1927, the company is now into its third generation of the Peller family, and based on Canada's Niagara Peninsula, an area particularly suited to the fine grapes required.
Anyone in Canada in January will find this winery and others indulging in the annual Niagara-on-the-Lake Icewine Festival. This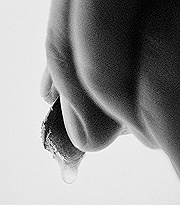 isn't just for wine buffs but a jolly round of restaurant and winery events, with the opportunity to sample Icewine varieties in glasses freshly carved from ice. Check out wineriesofniagaraonthelake.com/icewine-festival.
Peller produce four varieties, Vidal, Riesling, Cabernet Franc and Oak Aged, two aimed at being accompaniments to spicy cuisine, pate or cheese, two more for desserts. And there is also a sparkling Ice Cuvee, white and rosé. Prices from £35, available from top wine merchants and stores, and online www.harperwells.com
FROM THE BRITISH HEDGEROWS
DEMIJOHN has added Elderflower to its range of gins, mixing the dark elderberries with Dry London Gin to create a dry liqueur that will go particularly well with cheese after dinner – or any other time as a rich tipple.
This company specialises in a wonderful assortment of British wines and spirits and others goodies that come from small, independent producers, many flavours from the fields and hedgerows of Britain. Others lines include Sloe Sherry Liqueur from Yorkshire, a Butterscotch Cream Liqueur from Devon, Cucumber Vodka from Somerset, Scotch Whisky Liqueur made from blackberries in East Lothian, and a Black Cherry Liqueur from Worcestershire, plus lots more. They have shops in Glasgow and York as well as online at www.demijohn.co.uk