NEW AND OLD WORLDS FOR WINE BUFFS
Holidaymakers will be heading down Mexico way next year, if the Luxury Travel Fair in London this Autumn is anything to go by. The crowds who descended here, determined to find a hot spot for next year in spite of or maybe because of the economic storm clowds, were keen on this and other South American countries, including Brazil and Cuba and especially Chile.
Chile benefits from being one of the top New World wine countries, and is offering some de luxe trips for wine buffs seeking a change from European vineyards.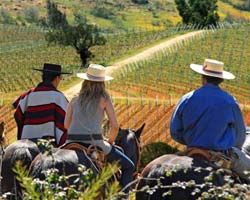 Chile Tours of Sloane Square is the specialist that knows its wine stars, which are by no means new. One is Tarapaca Vineyard, established for 125 years in a beautiful part of the country, not far from Santiago. Another, Concha y Toro, is Chile's largest wine producer, and responsible for Chile's respected 'Don Melchor' Cabernet Sauvignon.
These and other vineyards may be visited from Valparaiso and Santiago, with a tailor-made itinerary arranged from the UK by Chile Tours. www.chiletours.org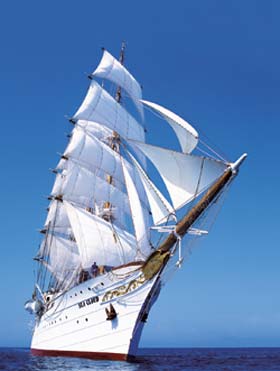 Still on the wine track, but back in Europe, the Sea Cloud Wine Cruise is destined to attract wine aficionados, who will enjoy some of the best of Italian and French wines as it sails along the Mediterranean coastline.
This beautiful square-rigger sailing ship, built in 1931 but immaculately restored to a luxury level, drops anchor at such enticing spots as Amalfi, Ischia, Portofina and Saint Tropez on its summer 2012 cruise.
With just 50 passengers, it aims to provide a private party atmosphere. There are wine tastings on board as well as ashore, with visits to wineries. Other entertainment is kept to a minimum, so that the sound of the sea and the wind through those 29 sails may be appreciated.
Highlight of the trip is likely to be calling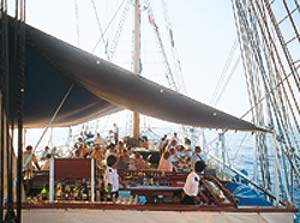 in at St Tropez on Bastille Day. The tasting here will definitely include some Champagne and the ship will up anchor as the evening firework display ends.
Alas, it is definitely not a ship for the non-nimble, say Arblaster & Clarke, who are the UK agents.
They will arrange flights to Rome if desired. Prices are from £4,999 for the 7-night cruise, starting in Civitavecchia. www.winetours.co.uk