THE WEDDING FEVER
THE wedding: As royal-watchers around the world tune in to news on Prince William and Kate in the run-up to their nuptials, the focus of feverish speculation and attention is on what Kate will be wearing. Prince William's attire, it has to be said, is of as much consequence to wedding fans as Mrs Beckham's frocks would be to a football fanatic.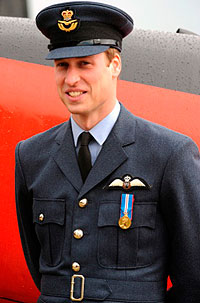 The groom, in all weddings, plays a supporting role,and the classic style of his clothes reflects this.
Many soon-to-be grooms will envy the Prince the option he has to choose a military outfit. Safe within uniform rules, everything is selected for him.
But there is still the minefield of which uniform. Having served in all three services, he can choose between his current Royal Air Force uniform, an Army uniform or the Royal Navy.
Odds are on the Royal Air Force, of course, where he is a serving officer - and no other Royal has wed in that uniform. But the Royal Navy, the senior service, comes out top as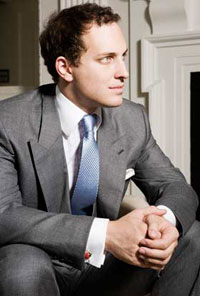 the most attractive kit. Gieves & Hawkes, who will be making the uniform, remain tight-lipped.
An earlier picture of His Royal Highness in Royal Air Force uniform. Below, a grey morning suit by Hardy Amies was chosen by his cousin Freddie Windsor for his wedding last year. This is unusual, most Savile Row tailors saying that they make very few grey coats.
Meantime, other Spring grooms must battle with the decision of black or grey morning coat, plain, striped or checked trousers, plain or coloured vest, white tie or plain silk...
Some tailors report that young customers are increasingly favouring a lounge suit, which seems a pity, given the effort most brides make.
"We've only made a couple of morning suits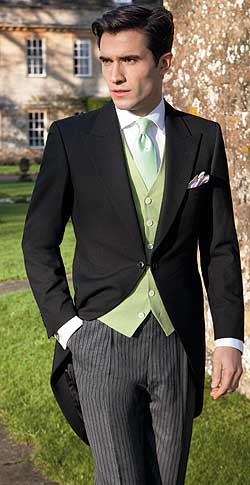 in the last five years," reports Mark Powell. "People want suits they can wear after the wedding or if they want morning suits they tend to rent."
In the present economic climate, this trend may prevail but for the big wedding, tailors on the Row thinks tails win.
The Prince of Wales chose black with striped trousers when he wed Camilla Parker-Bowles, but wore military uniform for his first marriage to Diana. The most recent royal wedding was that of Freddie Windsor in 2009, son of the Duke and Duchess of Kent.
He opted for a classic grey morning suit that was tailored for him by Hardy Amies, a Savile Row establishment with particular clout in the royal stakes. It has made the Queen's clothes for many years and also for other female members of the royal family. A recent management change has seen it place renewed emphasis on its bespoke tailoring for men.
Above, this morning suit from Ede & Ravenscroft is unusually teamed with a pale green vest and tie. Green is the least favoured colour for menswear, apart from in country clothes, so this is a novel choice.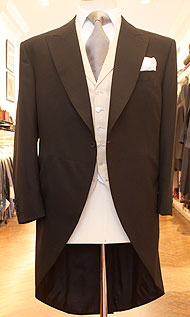 But it is not just style decisions that are exercising Savile Row. With the expectation that more couples are being prompted to the alter by royal example, the Row's tailors are concerned that there may be a rush of customers. February and March are the usual months for the seasonal wedding attire business to kick off, in time for Spring and early Summer weddings, but this year, tailors are advising their customers to start early.
"We have to tweek the timing just a little," said Poppy Charles of Huntsman. "The Royal wedding is obviously going to give a boost to our wedding orders and though we usually estimate around 6 weeks for an outfit, if there is going to be extra work going through the workrooms, we are advising customers to start in good time."
Over at Ede & Ravenscroft, responsible for more coronation and ceremonial robes over the years than anyone else, they also are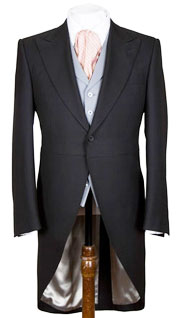 preparing for increased demand in bespoke dress suits. But if the pressure on bespoke is too much, they can offer ready-t0-wear morning coats with striped or houndstooth check trousers.
At Henry Poole, there is not only expectation of increased demand for morning suits but also in extra pressure from their on-going work to maintain certain court liveries. (see Style p3).
And Gieves & Hawkes will, of course, be well represented in the many uniforms present at the wedding, as well as with that of the groom. Resplendent in plenty of gold braid, gleaming brass buttons, sashes and medals, the male members of the congregation might well threaten to outshine the bride.