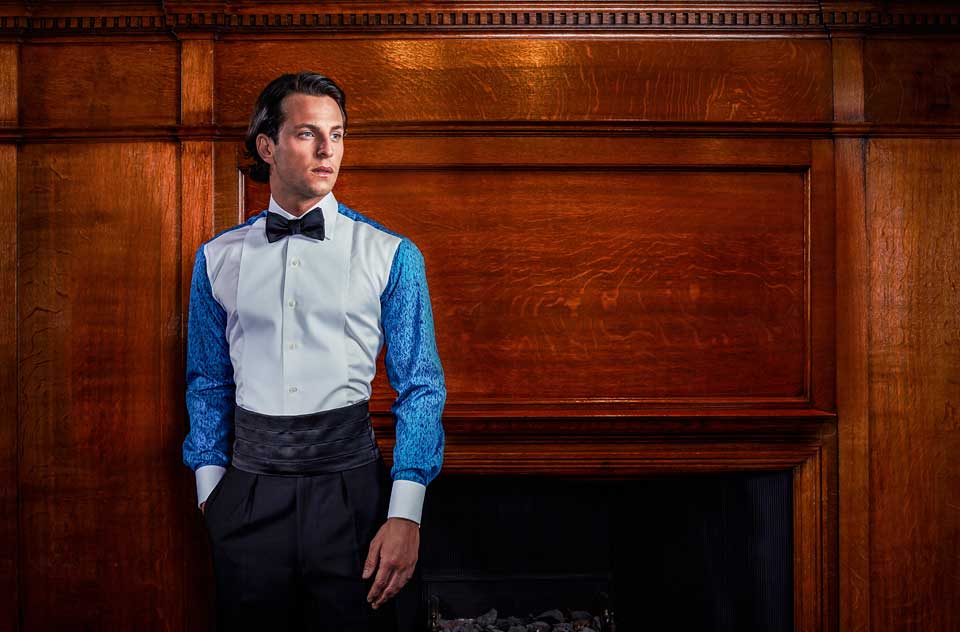 By Robin Dutt
It might be thought that if there were to be a statue to the legendary dandy Beau Brummell anywhere, it would be in Savile Row. But not a bit of it. He holds court across Piccadilly from the Row, in Jermyn Street, where the Regency buck and his cronies were wont to parade, running up bills at shirt makers, strutting their style on the way to their clubs.
Jermyn Street rivals the Row in being an exclusive centre for gentlemanly style. The Row may have all the tailors, but Jermyn Street has the shirt makers, shoemakers, leather specialists, and sundry other purveyors of goods and services to the young – and not so young – men about town.
And with Brummell particularly noted for his fine linen and fastidious attention to style details, this seemed as appropriate a spot as any in which to position a fine figure of the Beau, dressed in his finery, as perceived by sculptor Irene Sedlecka, and erected in 2002.
The street retains its concentration of shirt shops, though only a few now provide the fully bespoke article. Ready-to-wear has moved in. Unlike Savile Row, Jermyn Street has always had a more open approach to developments and incomers that has certainly made it less exclusive but more varied and vibrant.
This willingness to embrace diversification is evident in the shirt shops themselves. Turnbull & Asser, for example, sells a variety of accessories, knitwear, and luggage, in addition to shirts and tailored lines. Hilditch & Key not only has ties, pyjamas and boxer shorts, but also sells many nightgowns and dressing gowns as well, and has its own hat shop, Bates.
Across Piccadilly in Sackville Street, Sean O'Flynn is one of the few entirely concerned with making bespoke shirts, within the bespoke atmosphere of a tailoring house. Just off Jermyn Street, in the Piccadilly Arcade, Budd also continues to concentrate upon shirts but the size of the shop doesn't really allow for much else. However, its bespoke making facility is on-site.
Grosvenor Shirts is a new addition to the Jermyn Street hierarchy, with made-to-measure and ready mades, and stylish accessories. And lone woman shirt maker, Emma Willis, has injected considerable pizazz both with her bespoke and readymade shirts and in a high profile approach to marketing. Her 'Style for Soldiers' charity, taking bespoke shirts and walking sticks to disabled soldiers, has earned her considerable respect.
The only family owned shirtmaker remaining on Jermyn Street is Harvie & Hudson, with Masters Harvie and Hudson in charge, the third generations to run the company. The classic English style is favoured here, and they design their own cloth patterns; bespoke shirts cut on the premises.
Two other names are worthy of mention – Charles Tyrwhitt and Thomas Pink. Their shops provide good quality, readymade shirts, helping to inject much colour and fresh designs onto the street, and attracting a younger, style-conscious customer. They both also offer a made-to-measure service.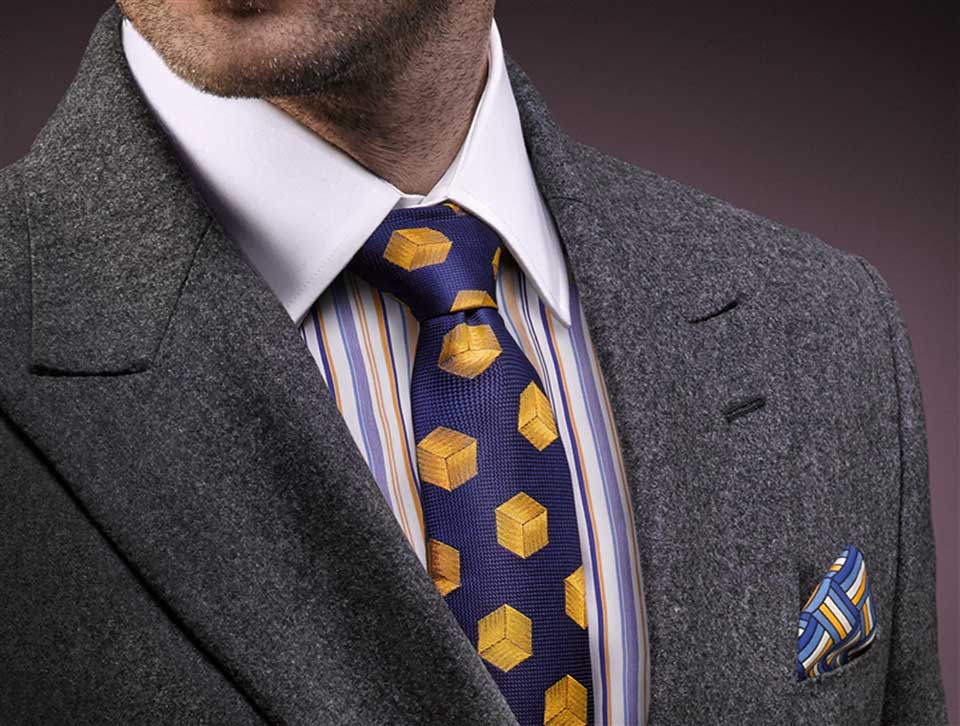 New Emporium
Grandaddy of this shirtmaking enclave is Turnbull & Asser, maker of shirts to the gentry since 1885, Royal Warrant holder to the Prince of Wales, and favoured by celebrities and style figures over the years.
The shop in Jermyn Street has been the centre of its international trade but now a new headquarters has been opened just across Piccadilly, in Mayfair, providing grand displays over four floors for its extending range of merchandise. But the Jermyn Street shop, steeped in its history, continues. For this autumn, the new collection comes from new Head of Design, Dean Gomilsek-Cole, who has taken inspiration from T & B's penchant for bold use of colour and patterns. Brilliant stripes, influenced by the colours of medal ribbons, are designed to be teamed with brightly patterned ties, and differently patterned pocket squares. Some of the patterns are taken from 1930s archives, evidence that all was not doom and gloom then. White cutaway collars, to be worn with big knotted silk ties, are style pointers.
Bespoke test
Another grand old company, only slightly younger than Turnbull & Asser, Hilditch & Key continues to make bespoke shirts, in addition to having an extensive readymade selection. The minimum order for made-to-measure is six, and the first 'sample' shirt will take approximately six weeks from when measurements are taken. Customers are then asked to wear and launder this one for two or three times, so that if any adjustments are required, they will be made to the rest of the order, which takes a further eight weeks. During the dog days of August, when a quiet sales period might have been expected, the shop in Jermyn Street was overrun with customers, some tourists but many home trade gentlemen enjoying a shopping stroll on a warm summer's day.
Showing how much the street has changed from its heyday as a bastion of male style, H & K attracts a steady flow of ladies. They come for the extensive collection of ladies shirts the company makes, well tailored, in cotton. "It stops them 'borrowing' their husband's shirts maybe," said Director Michael Booth.
"It stops them 'borrowing' their husband's shirts maybe"
Bengal Special
For Budd, top shirt maker in the Piccadilly Arcade just off Jermyn Street, bespoke remains the cornerstone of business. Like other shirt shops in the area, they have long since moved into ready-to-wear shirts as well, but the bespoke service remains of paramount importance, backed up by having a bespoke cutting facility on-site.
"Our Mr Butcher is head of bespoke, and has been making shirts here for over 45 years," said shop manager Andrew Rowley. "At one time, you couldn't get any young people interested in learning the craft, but that's all changed in recent years. We now have two young men that Mr Butcher is training, so our bespoke service and its quality are secure."
The Budd special is a Bengal stripe that has a satin stripe with the addition of a fine black line, giving something of a 3D effect, available in a range of colours, always in stock. In response to the move to more casual styles, a new Irish linen shirt with soft collar and cuffs and square bottom is proving very popular, while West Indian Sea Island cotton is the top selling line, in all sorts of colours and patterns.
Collars & Cravats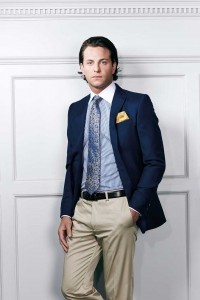 Wearing a navy spotted cravat with a zinging pink gingham shirt, Sean O'Flynn shows how a shirt can be worn open-necked and look smart as well as stylishly casual. "Yes, I 've always worn cravats," O'Flynn said. "A classic shirt style with the neckline open can look a bit untidy, and the cravat is slightly less formal than the tie. When I was a kid, Gerald Harper and Jason King were two TV stars who always wore cravats, so perhaps that influenced me! And now Jason King's son is one of my customers."
On a recent Today radio programme, the likelihood of the cravat making a comeback was discussed, with no less an exponent than Nicholas Parsons – though that might not be the ringing endorsement needed to win over a younger market. O'Flynn, bespoke shirtmaker who began learning his craft at the very centre of men's style in the 1970s, Huntsman, and then later at New & Lingwood, started his own company in 2005. He is within the Meyer & Mortimer building in Sackville Street, sharing many of his customers with the various tailors in the bulding and with others in Savile Row.
"…the cravat is slightly less formal than the tie"
"Customers generally leave styling pretty much to me. We usually go for the West End cut, quite fitted. It varies of course. I help them choose the fabrics – and they are going for more colourful designs. Most do wear them with ties. For those who don't want a tie, I make this design with a smaller, rounded collar, so that if it is buttoned up, it looks quite neat. Customers like shirts that are dual purpose – which can be worn with or without a tie and still look good.
Youngster Appeal
Grosvenor Shirts opened on Jermyn Street earlier this year, having first established itself in Mayfair. Jermyn Street has the advantage of providing a separate made-to-measure service in the basement, which has made a significant difference to sales.
"Customers really like it," said Martin Kyran of Grosvenor. "It means they can take their time in selecting fabric and looking at style options, then having their measurements taken. There are literally hundreds of fabrics from which to choose. The shirt is then made up at our UK plant, usually a three week service from start to delivery."
This is a young company that prides itself on a youthful outlook – so much so that it aims to catch customers young, making shirts for two-year-olds upwards. However, don't expect a shirt for Junior at half the price of one for Dad. It is a popular misconception that because garments for children are smaller that the price will be proportionately smaller. However, production is fiddly and can take just as long as that for the adult version.
The Feminine Touch
Emma Willis, the lone female head of a Jermyn Street shirt shop, is not just a pretty face. She brings considerable experience that ranges from selling shirts door-to-door around city offices to setting up her own shirt making business and opening her shop on Jermyn Street some 15 years ago.
"Younger customers are going for a more tailored fit"
It offers bespoke and ready-to-wear shirts, in the shop and online, and the collection is also available on Mr Porter.
"Younger customers are going for a more tailored fit," she reports, "with a firm collar line that keeps its place when worn unbuttoned." The latest addition is a range of cashmere cotton shirts and cashmere polos for this autumn.