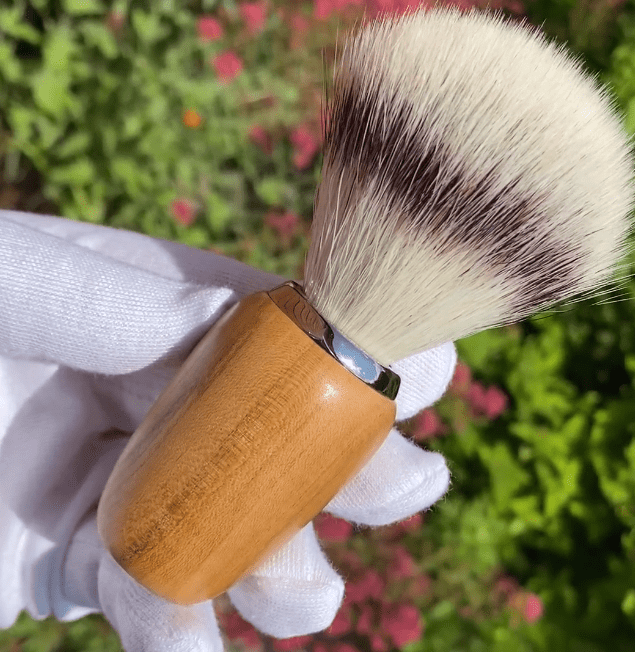 Writing exclusively for Savile Row Style, wet shaving expert and Wilde & Harte Director Paul Thompson introduces the the brand new Kew Collection Shaving Brush and explains how to achieve the perfect wet shave.
Men aspire to the perfect, smooth and nick free wet shave, leaving skin exfoliated, clean shaven and ready for the application of a favourite cologne. Of course, to achieve this, the three essential components are:
• Safety razor or cartridge razor
• Quality shaving brush
• Lather generating shaving cream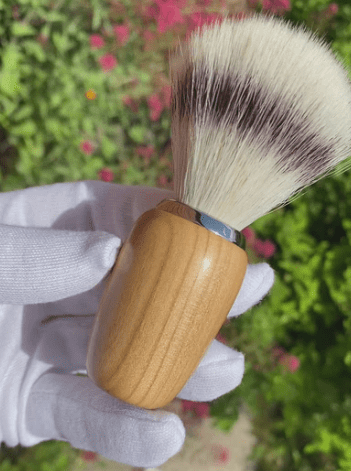 A quality shaving brush is just as important as a clean, sharp blade for a wet shave and the Wilde & Harte Kew Shaving Brush measures up perfectly!
Featuring cherry wood, a durable, dense and rich reddish hue wood yielding beautiful grain patterns, each Kew collection shaving brush handle is turned by hand, sanded and lacquered for a waterproof sheen. The fibres are synthetic (vegan friendly) and are held in place by a mirror polished stainless steel ring, adding weight, durability and a touch of class to each shaving brush.
These beautifully crafted Kew Collection Shaving Brushes are available to purchase from Wilde & Harte today. Learn more here.
How To Use a Shaving Brush
Wet both your face the shaving brush fibres with warm water
Apply small amount of shaving cream on each cheek
Using the shaving brush, work the cream into a lather and spread around your beard area
Shave and rinse away excess shaving cream
Dry face and apply moisturiser and aftershave
Note: Luxury shaving creams and shaving soaps are available from a handful of leading UK grooming brands. They are available in many traditional, woody fragrances such as sandalwood and also in zesty fragrances such as lime or grapefruit. Typically, a 150ml tub of shaving cream (£15.00  / $20 (USD) approx.) would last six months when shaving three times a week. It is common to build a collection of shaving creams suited for winter and summer.
About Wilde & Harte
We design and manufacture razor collections and shaving brushes inspired by the splendour and grandeur of iconic houses and palaces in London. Where style meets sustainability, the brand offers hand crafted 100% plastic free shaving options and accessories to minimise plastic consumption and lower shaving costs. Wilde & Harte are members of the Made in Britain campaign.