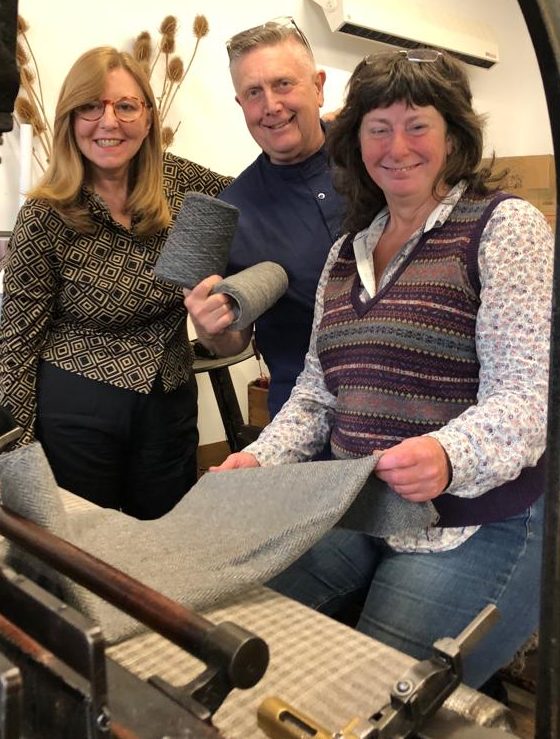 Sustainability champions: Su Thomas,  John Parkinson and Sam Goates                                                  
By Daniel Evans
Su Thomas, known to many on Savile Row for her excellent work with the Savile Row Bespoke Association, has taken up the new challenge of improving sustainability among the finest tailors in the land. After the best part of 20 years managing the SRBA, Su has committed to improving recycling and renewal in a part of Mayfair more used to sticking with tradition and heritage.
As we sit in the offices of Holland and Sherry, Su tells me why she decided to make the move. "I got fed up with seeing tailors throwing away really high-quality 100 per cent wool waste," she says. "I started talking to some of the older tailors who remembered that they used to pick up the waste and, back then, they had the machines to break it down to reuse it. I decided I wanted to see if we could go back to that. I didn't know how it was going to turn out but I was determined to give it a go. When I told the tailors what I was doing, they said 'fantastic, yes… we're on board with that'."
Su set up her company, Eco-Luxe, last year to focus on her recycling ambitions and encourage the tailors of Savile Row to recycle their own textile waste into cloth of such quality that it can be resold to their high-end clients.  "The aim of it is to find a zero waste programme," she explains. "You take textile waste, you break it down, you have a transparent process so you can show you can break it down. You have to put something else with the waste so it is strong enough to spin again so we've gone for British organic lambswool. You spin it again and then it goes back into weaving so it's a completely zero waste circular programme."
Su oversees what is now a three-point production line. First, the waste cloth – or mungo – is collected in bags by individual Savile Row tailors, it is then transported up to Yorkshire and handed over to John Parkinson who has a textile recycling business called iinouiio (which stands for It Is Never Over Until It Is Over). Once the yarn is produced, it travels another 600 miles north to be woven by Sam Goates who runs Woven in the Bone, a micro-mill, in Buckie on the north east coast of Scotland. Then, it returns to Savile Row to be made into new garments.
The project was unveiled during the annual Campaign for Wool Month in October. Campaign for Wool, which has King Charles as its patron, was set up back in 2010 to promote the wool industry and highlight the importance of sustainability, aims which Eco-luxe shares. As John explained: "It's been an incredibly exciting project to work on and we're delighted it came to fruition during Wool Month, which is a key event for us to demonstrate and promote responsible textile manufacturing with the aim of breathing new life into discarded textiles. From things that have been dropping onto cutting room floors and thrown away we end up with a beautiful piece of cloth that's ready to be used all over again."
It's early days yet, but initial reports suggest the enterprise will be a success. Leon Powell, Senior Cutter at Anderson & Sheppard, told the Haptic & Huw podcast: "I think a lot of customers will really enjoy this story," he said. "In today's society, people want this. People want to know where these clothes come from – the background. In this day and age, it's part of the story. Some customers will like the idea and think it's really forward thinking and clever. We were so impressed with the cloth we have commissioned a length for ourselves. The romance, the idea, everything about it. Just fantastic for the industry."
After Su had decided she wanted to take on this recycling project, her first challenge was to find a craftsman with the skill – and machinery – to carry out the task. After a nine-month hunt, she tracked down John Parkinson, who was involved in textile recycling using traditional Yorkshire methods, but even he didn't have the right machinery. Su takes up the story: "It was pre-Covid and, at the time, DEFRA were giving out grants for sustainable projects and I was happy to support John's successful application to build the first fibre opening machine back in the UK. It's an absolutely massive machine – it cost around £220,000 and takes up the whole of the warehouse."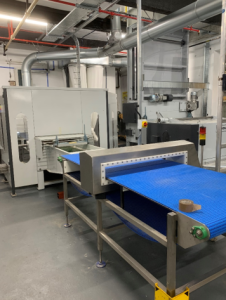 Savile Row's big five – Anderson & Sheppard, Henry Poole, Dege & Skinner, Gieves & Hawkes and Richard Anderson – are very much fans of the project. As Su explains: "They all have Royal Warrants and you have to tick an awful lot of sustainability boxes to retain them. So, collecting their waste and giving it to us fits into that. But we are still in a research and development period. Having proved this recycled cloth was good enough to be used by Savile Row tailors, we have to look at other areas – like can we dye? Should we use vegetable dyes? If you dye in the normal process, you are introducing chemicals into the equation."
Su knows that the ultimate success of the project will depend on producing cloth the tailors on Savile Row want to use on a regular basis but she is up for the challenge. "We can provide a great story for tailors to tell," she says. "More and more customers want to know where their clothes come from – how sustainable is the process. With our recycled cloth, the tailors can tell that story. It's very British – all made in the UK. Everyone has a very clear idea of exactly what happens. From taking the clippings on the floor and bringing them back to life. They can say it's a zero waste programme. It's really about the story from start to finish and show it can be done."