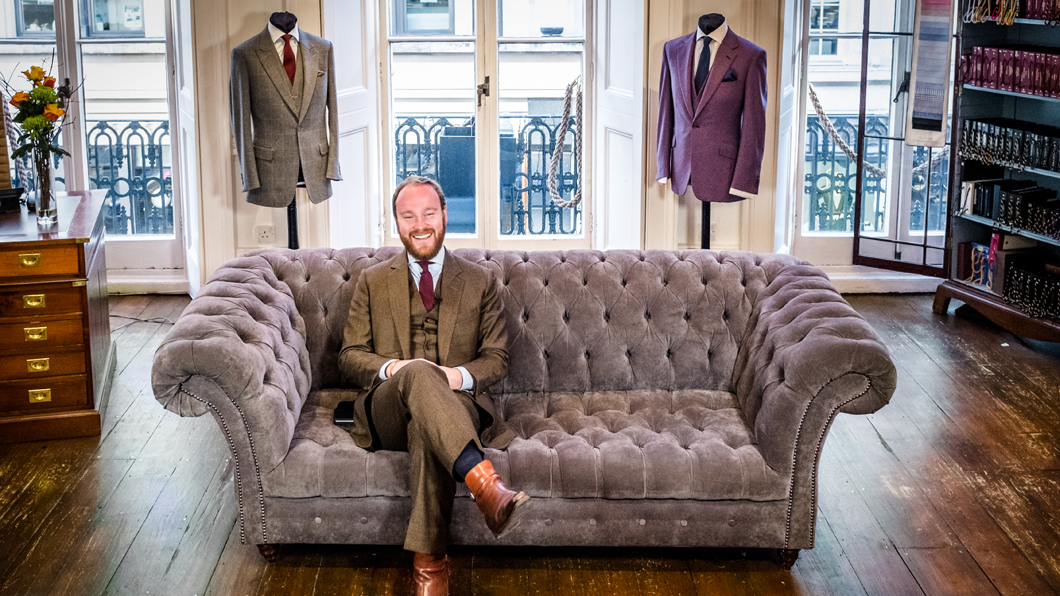 By Daniel Evans
James Sleater is in fine form when we meet, as well he might be, as he has much to celebrate. Not only is it Cad & the Dandy's tenth anniversary, the company is about to open two shops in New York and has recently acquired Gotrich, Sweden's oldest tailor. So, from the impressive vantage point of the firm's first-floor showroom on Savile Row, it's a good time for co-founder James to assess the journey so far and what challenges might lie ahead.
"As well as being exciting, opening up in New York makes good business sense to us," says James. "A lot of our customers are in finance and will spend three years living and working at a bank in London and then move back to New York or vice versa so, over time, we have naturally built up a good customer base which makes the business viable. Our US operation is currently 6% of what we do, so our potential upside is huge, especially when you bear in mind that about 75% of Savile Row's business comes from the United States."
The stores on Fifth Avenue and in the financial district in Midtown – the move is being made easier because two members of staff are actually married to Americans – will raise the number of Cad & the Dandy outlets to six, with three in London and one out in Stockholm. "The Gotrich business became available and it fitted in with our operation. We've got an amazing number of customers in Scandinavia and their archives are incredible. It's interesting to see how they operate – we are teaching them things and they are teaching us things. They make for the Swedish royal family and ABBA, which is about as good as it gets," he says with a smile. "It's been going since 1730 which actually makes it older than any tailor on Savile Row."
James, who founded the firm in 2008 with business partner Ian Meiers, is clear that being based on Savile Row is essential to Cad & the Dandy's success. "There is a kudos to working on Savile Row which we all need to protect," he says. "Having a shop here is a hugely important part of the business, especially as we expand around the world. It's been an amazing learning curve in many respects because when you set up, you do not necessarily go along the right path at the start. Initially we focused on price and, within only three months, we realised that price wasn't the most important thing. Quality is what your brand reputation comes down to and, for us, the past ten years have been about making suits that adhere to every single Savile Row principle but done in a more modern way and making them more affordable.
"We need to foster and protect this street with every ounce of our being. When we set up our business we had to compete against the street and now we are competing against the world. There are tailors around the world doing a merry dance around Savile Row, trading off its name. Savile Row needs to become the focus of menswear again. That means improving its approachability, its ability to attract new customers and form the right type of partnerships. It needs a more modern approach."
One tactic James is keen to utilise is social media, something he feels will unlock a lot of business doors. "Social media is key to what we do," James says. "My theory on the world is that websites are going to die a death. Social media is more dynamic, with the ability to share fresh content multiple times a day with the added bonus of receiving immediate feedback. The world is totally changing. You used to have word of mouth, then Yellow Pages, then websites were the shop front and now it's evolving again with social media."
James, clearly enjoying life in the world of tailoring, has no regrets about switching from his old career in finance.  "I was a trader for eight years," he says. "It's a good job and you can earn plenty of money but there was no excitement, other than having a company credit card. There was nothing creative about it; you're just moving numbers from one screen to another. That was about as exciting as it got. Now, I love coming to work every day. It's so varied. A few years ago, I had a phone call from a film studio looking for a couple of tailors for a production they were casting. We were hired to play tailors in Great Expectations. Robbie Coltrane, Helena Bonham Carter, David Irvine and David Walliams. As it was a Dickens film they wanted people who looked Dickensian. We sent headshots of everyone at the company and somehow they chose me and the oldest tailor in the company."
Unsurprisingly, James wants to keep all his customers happy. "We have a house style but we are flexible with it," he explains. "I want everyone to look at one of our suits and say that looks amazing because of the fit. If a customer wants a softer shoulder, then we'll do it. That's the nature of customer service – we are going to make you what you want. If it's wrong for the structure of the suit then we'll tell you we can't do it. We have got our brand and our reputation to uphold. There's definitely a boundary but, having said that, our boundaries are that bit more flexible than the more traditional guys. You want your customers to walk away in a suit that looks amazing and makes them feel amazing."
So what of the next ten years? James is optimistic. "There's a lot of potential for us to continue to grow," he says. "It's the basic Darwinian theory of survival of the fittest and I intend for our business to be the fittest. We are working on a ready-to-wear collection, which I hope is going to be the backbone of our business, as well as growing our bespoke collection and putting British bespoke back on the map. I hope that, in 2028, Savile Row is stronger than ever, that it has evolved and embraced this need to change."