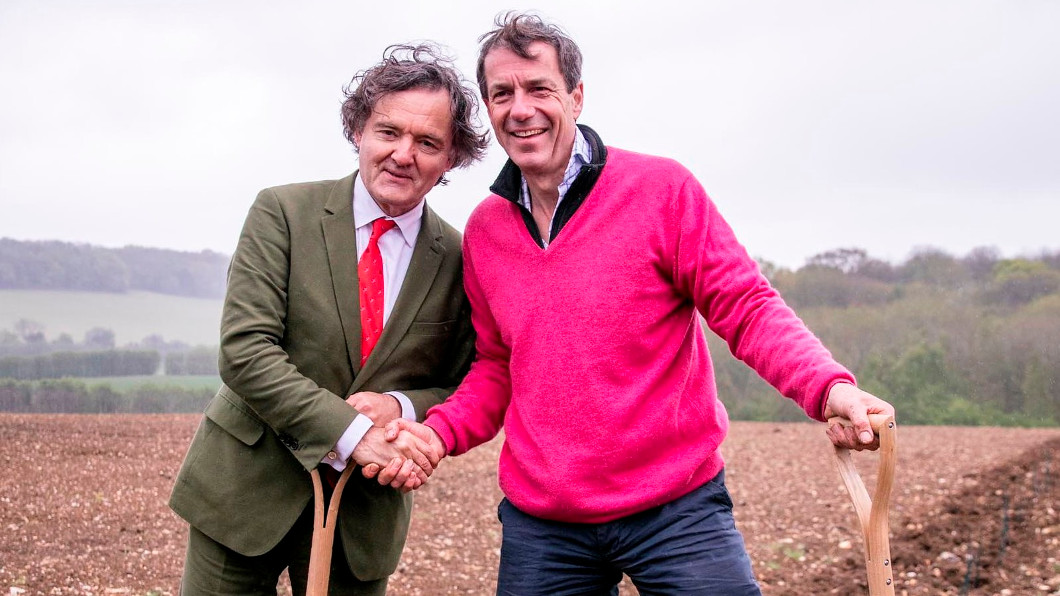 Helena Nicklin celebrates the planting of the first vines at Domaine Evremond, a new wine estate in Kent owned by Champagne Taittinger
Fancy a glass of Sussex? Or how about a carafe of Cornwall? Twenty years ago, sipping a fine wine made in your own back garden was a dream that could only come true if you had a house abroad. Today however, it's a very different story. In recent months, we've seen the launch of England's first £100 bottle of wine, another blind tasting where English fizz beat the French, the birth of the UK Wine Awards and the very first vines planted by a famous Champagne house in Kent.
Now, with one million vines due to be planted in the UK in 2017 alone, it's clear that the world is getting wise to the quality and potential of English wine and guess what? This is just the beginning. Here's why you need to pay attention to England's most exciting new export.
The other day, as I watched the landscape roll by my train window with its quaint and quirky hedgerows, I considered how an English midsummer night's dream used to be about anything other than winemaking. Yet, there I was, about to step off a train at Ashford, Kent to celebrate the planting of the first vines at Domaine Evremond, a new wine estate in Chilham owned by Champagne Taittinger. I was greeted by a huge group of French and English wine trade and press as well as several Kentish wine producers who had come to support Domaine Evremond. The importance of the occasion was not lost on anyone. I spoke to some of the leading lights of the trade to find out why English wine is taking the world by storm.
"The endorsement of Champagne Taittinger really shows everyone where the English wine industry has come in the last 20 years," says Patrick McGrath MW, the man who helped convince his great friend Pierre-Emmanuel Taittinger to start making sparkling wine in England. And it's clear to see why the Champenois have invested here.
"We've found that we have exactly the same chalk as the Grand Cru Côte des Blancs (in Champagne) and a very similar climate," Ian Kellett from Hambledon Vineyard in Hampshire tells me. Back in Chilham, I look around at the mile after mile of south-west facing chalk slopes and think about the massive price differential of land here compared with Champagne. It's obvious why applications to plant vineyards rose by more than 40% last year.
Despite the relative success of England's still wines, many of which are the Germanic varieties planted many years ago, it is sparkling wine made from the 'Champagne' grapes Chardonnay, Pinot Noir and Pinot Meunier that's grabbing the headlines. "I'm absolutely sure that sparkling wine is what's going to make us great," says broadcasting wine guru Oz Clarke. "It's perfectly clear that, in England, we are making exceptional Pinot Noir and Chardonnay. Our chalk is incredibly exciting for balance – it gives the wine a beauty, a texture, an ethereal fragrance."
Beautiful tasting notes aside, I'm often asked why English wines are so expensive given the vastly different prices in land (we're talking, very roughly, about £30,000 per hectare in the UK compared with between €1 million and €2.1 million in Champagne). The answer is that, in England, we are starting from the beginning, investing in materials, equipment and expertise that hasn't simply been handed down through the generations as it often has in longer established wine regions.
In most cases though, the wines are worth it; a little piece of the best part of England in a bottle. These are the new wine icons; the ones to watch. No one I spoke to said they would be surprised if, in the future, some of the greatest sparkling wines in the world were to be produced in England. "In fact some of them," says Clarke "already are."
---
More info in English wine and vineyards
www.winecellardoor.co.uk | An independent guide to visiting English & Welsh vineyards.
www.englishwineproducers.co.uk | Official site for the English & Welsh wine industry.
---
Considering investing?
If you're thinking of investing and want to know where to start, seek out Stephen Skelton, the authority on what makes a good English vineyard. See more about what he does, find his books and contact him at www.englishwine.com.
---
Helena Nicklin's recommended English wines
White Non Vintage Blend – Wiston Estate Brut NV
£24.95, www.corneyandbarrow.com, www.wistonestate.com
Pure, poised and crisp, with crunchy red apple and brioche flavours.
Blanc de Blancs – Gusbourne Blanc de Blanc 2013 (100% Chardonnay)
£39.95 www.bbr.com, www.gusbourne.com
A rich and leesy, complex and full-flavoured fizz with apple skin bite and lots of fruit.
Blanc de Noirs (100% Pinot Noir) – Camel Valley White Pinot 2014
£29.95, www.camelvalley.com
Beautiful, elegantly soft bubbles with peach sherbet flavours and a subtle, leafy note.
Sparkling rosé (100% Pinot Noir) – Greyfriars Sparkling rosé reserve 2014
£21-25, Waitrose, www.greyfriarsvineyard.co.uk
All hedgerow and wild strawberry, this is a beautiful, pretty pink fizz with personality.
Still white – Camel Valley Bacchus Dry
£14.99, Waitrose, www.camelvalley.com
Quintessential Bacchus with notes of wild flowers and nettles. Refreshing and dry on the finish.
Still white – Kit's Coty Chardonnay 2014
£30, www.chapeldown.co.uk
A gorgeously rich and round, wild ferment Chardonnay with a kiss of spicy oak. Serious wine.
Still red – Hush Heath Manor Pinot Noir
£19. www.hushheath.com
Super soft and silky, with lactic, strawberry flavours and cinnamon spice from the oak.
Still rosé – Lyme Bay Pinot Noir Rosé 2015
£14.29, www.lymebaywinery.co.uk
Zesty and punchy with savory strawberry and leafy notes. One for Sauvignon lovers!
---
England's first £100 bottle…
Chapel Down's 'Coeur de Cuvee' is a Chardonnay made from the best blocks of vines from their top vineyard, Kits Coty. It's made from the first gentle pressing of the grapes only (hence 'heart of the wine') to produce the highest quality wine possible. The winemaker describes it as rich yet elegant with flavours of fresh brioche, hazelnut and ripe green apple. Only 1600 bottles of the 2013 vintage were made and each has been individually numbered.