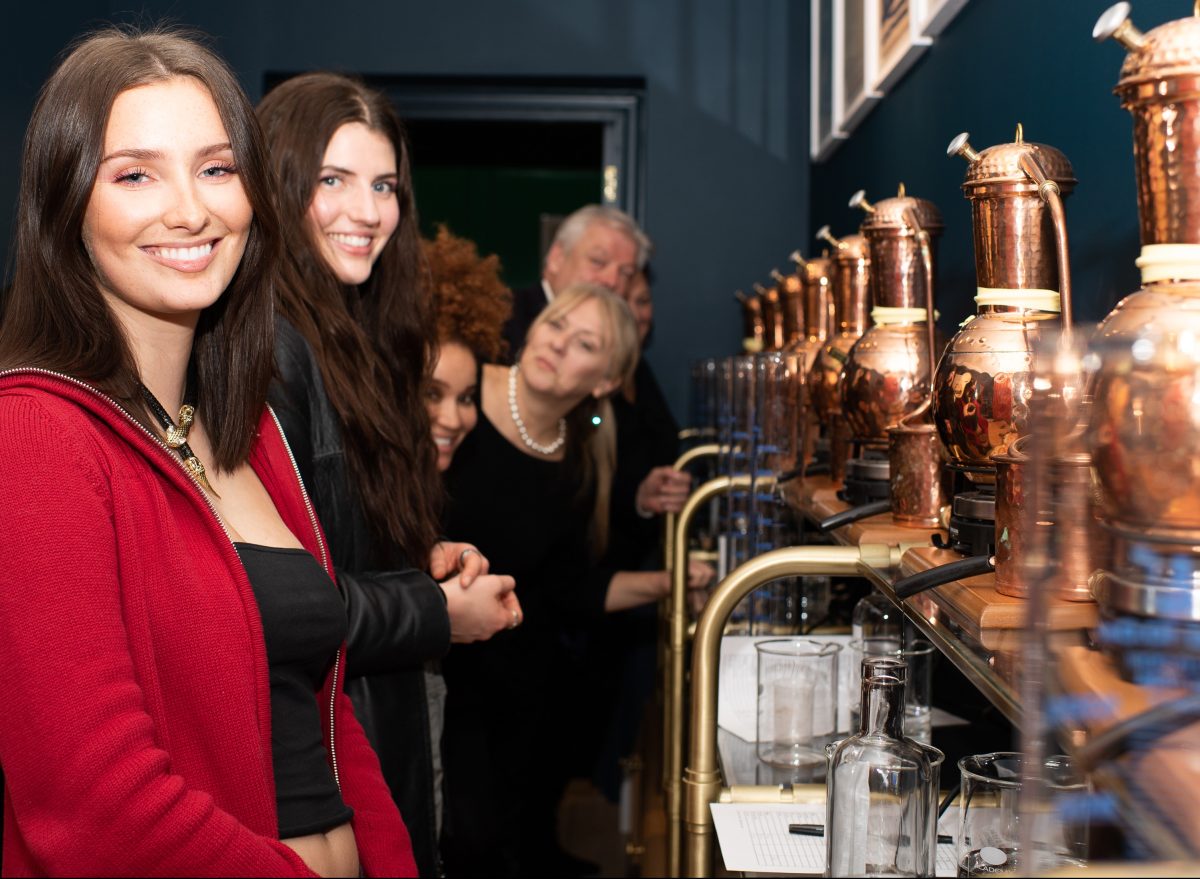 Guests at the Savile Row Gin Experience in the stills room
Jessica and Debbie and Amy and Scarlet, who all left JP Hackett's flagship store on Savile Row clutching their prized, personalised bottles of gin, were unanimous when they said: "It's been a night to remember." The quartet had been part of a sold out evening of cocktail tasting and gin making, hosted by The Savile Row Gin Experience, at the centre of elegance and craftsmanship for which this exclusive oasis of Mayfair is well known. To begin, there was a short introduction to bespoke tailoring by the urbane Thomas van Kannen, store manager at Hackett, then a fascinating talk and demonstration about the secrets of making gin with expert Michal Zajac.
First, Thomas, in the elegance of the former Hardy Amies building at 14 Savile Row which has been Hackett's London HQ since 2019, guides us through the world of bespoke tailoring. He says: "Everything bespoke is made here at the store and it takes about 12 to 16 weeks to make a garment. The head cutter is the architect for the suit and, in Juan Carlos Benito, we have one of the best in the world. His grandfather trained on Savile Row – he made a suit for Fred Astaire – and I know JC has always wanted to return here and follow in his grandfather's footsteps. It's his first job on Savile Row."
Thomas goes on to explain how JC, as he is known, goes about his work. "He creates a shape for each client which is only possible with bespoke. Every pocket is cut and made by hand, every buttonhole is stitched by hand – every little detail you can see is made by hand. That's why you have to treat it like art. There are around 80 hours of hand work in every garment."
The focus then moves on to Michal as he entertains those gathered in the busy Green Room at the back of this magnificent building. With a few drinks to set the mood – first a  French 75 then a Southside, apparently a favourite of Al Capone – Michal brings on the main event – creating and distilling your personalised bottle of gin.
Michal explains that, before you actually create your gin, you need to select – with the help of some small weighing scales – your botanicals, essential ingredients that provide your gin with its unique taste. You'll need to pick your base flavour – juniper, coriander or angelica – then a variety of others from the four stations dotted around the room, depending on whether you want your gin to be spicy (black pepper, cassis, liquorice etc), citrusy (lime leaves, orange peel, lemon peel) herbal (thyme, rosemary etc) or floral (elderflower, orris root). Then it's out to the stills, kept in a separate room, where you mix your choice of botanicals with some ethanol, pour it into your still, heat it up and, 20 minutes later, out comes your unique recipe, ready to be poured into your personal gin bottle to take home.
It was a process that delighted the packed room of first-time gin makers. "The highlight was tasting the gin as it came out of the still," said Amy. "I enjoyed combining the ingredients and learning about the different proportions that go together."
Her friend Scarlet agreed: "I enjoyed learning about the ingredients that go into a cocktail," she enthused. "You come away with a brilliant bottle of gin you have made yourself. A lovely experience."
Debbie was equally enthusiastic. She said: "We took an artist's palette of flavours and blended them together according to some principles to see what comes out at the other end. I enjoyed the combination of having a bit of skill imparted as well as having a good old go. You can create your own thing but you'll get some real information and education at the same time."
And, as Jessica holds her prized bottle of gin which she says will be going straight into her fridge at home before she invites some friends around for a tasting, she sums up the evening: "It was convivial and informative," she said. "A lovely group of people with lovely drinks. The highlight has got to be the distillery and I highly recommend."
To find out more, go to The Savile Row Gin Experience. You can book an experience here. Book now for Thursday, March 9.