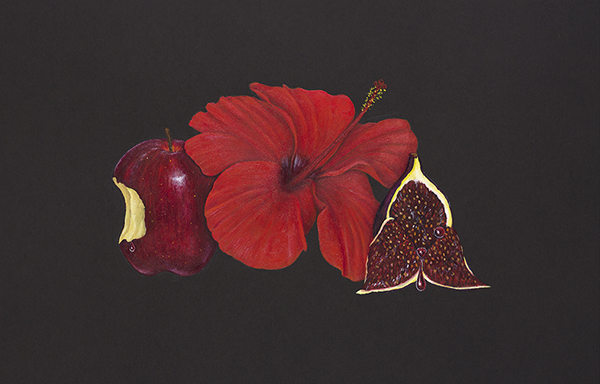 Christmas Gift Ideas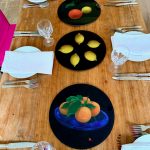 The work of the painter, Andrew Flint Shipman is known around the world, writes Robin Dutt. Famed for his technicolour expressions of flowers, esoteric symbols and occasional 'landscape nudes', his sense of bright hues has seen him transfer his expressions on canvas onto a host of functional and purely decorative objects. His Useable and Wearable art features aprons, T-shirts, candles and bags emblazoned with blooms and skulls and often accompanied by what has come to be his signature motif, a glossy apple used either as a centre stage emblem or more often, a deliberate pointe finale. It is something of a stamp or seal. And some four decades of creativity later, it is chiefly associated with him.
His paintings make fine presents and most of these are realised in Acrylic and liquid metal on canvas, linen or wood and his use of gold leaf or fluorescents inform the whole image and make it punchy and almost cinematic or stage-referential. So there is no surprise in learning that theatre was in this creator's blood from a very early age.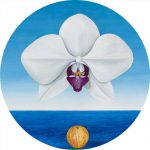 Somehow, there is a surreal element to his work but the viewer is invited to interpret the different messages, almost like reading lush hieroglyphics of a secret world. Just as when we read Egyptian hieroglyphics we are unaware of how these shapes exactly sounded. We can approximate but not completely know. So it is with Flint Shipman's fruits and flowers, esoteric symbols of life in mind, such as the Ankh or the Eye of Horus and indeed, thoughtful depictions of say, an insect pushing a miniature sand timer like a scarab beetle or a mystical triangle accompanied by three emerald green sentinel apples and a black feather, that he invites us into his world.
It is tempting to imagine the word-sounds of these motifs or even how they might be translated into musical notes. Obviously, there is a sense of magic and esoteric lore in what the artist is conveying and his titles such as, 'Don't just look, see', 'The Unknown just got more mysterious' and 'The sun disk and Om' and in the main devoid of humanity, he paints the sorts of images and symbols human kind has been enthralled by for thousands of years in a continuum which is constant despite whatever new technology and developments emerge to challenge our feeling of the power of mystery and imagination. Flint Shipman will always be a painter first but his works are so adaptable onto a myriad of other affairs that he spends a good deal of time coming up with ideas for the home too.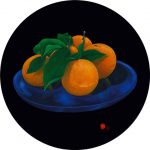 Especially for Christmas, revel in his selection of attractive trivets (£50 each) made of toughened, recycled glass. he is often asked by his customers how they are supposed to go on a wall as there are no fittings. They aren't! Although they look as if they could easily pass as unique works for display, seen either singly or in a massed conglomeration or simple set of rows. No, these are trivets for the table with large central blooms providing splashes of colour and tactility to any setting. Choose from Christmas Lily, Orchid, Fig, Oranges and Lemons among the fifty designs in the range and look far more magnetic when mixed than matched – particularly at this season. But for a more formal setting, six white lilies or deep purple agapanthus motifs add a sense of chic and propriety.
The table mat and coaster collection (£100 for a set of six or £35 for a set of six, respectively) will add more than a splash of colour whether you choose backgrounds of festive gold or acid Pop Art hues, with a central contrast bloom. Scented candles (£45) made in the UK with natural wax infused with essential oils will provide that welcome olfactory backdrop.
If you're looking for the unusual when it comes to gifts this Christmas, Flint Shipman invites you to luxuriate in his art.
Paintings – www.andrewflintshipman.com
Useable & Wearable Art –www.andrewflintdesign.com