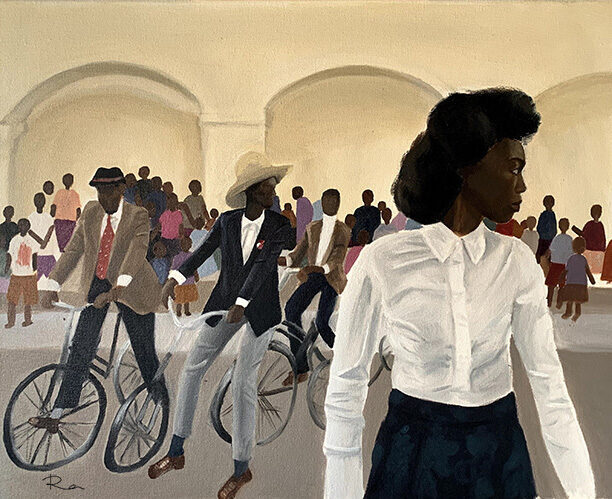 Art Preview – Fashion designer, Nicole Farhi among the artists for 2021's 'Discerning Eye' Exhibition
Now in its thirtieth year, the ING Discerning Eye Exhibition has become something of a London landmark on the art scene, writes Robin Dutt. Over 500 artworks will be on display and this year the organisers received more than 7,500 entries from all over the UK. Actor Russell Tovey along with fellow curators, Adelaide Damoah, Anna Brady, Peter Brown NEAC, Roland Cowan and Tony Humphreys went through the open submissions, to handpick the shortlist.
There are pleasures and problems regarding the organisation of any group show. Whilst the initial idea might be to try and aim at a kind of harmonic balance, in reality, this is neither necessary nor desirable. The object is to show variety – sometimes contradictory and uncomfortable – the better to prove the point regarding the nature of the creative process. Rare it is when you can say you love everything. Rare it is that there is not something you love intensely and may buy – if you could. Often this method of display is called a Salon Display (a la The Royal Academy at the Summer Show) where the eye is assaulted (regaled might be a kinder word) by a baffling splash and spray of different genres, styles – and abilities. But it's a 'something for everyone' approach, of course – very levelling and all-inclusive. The sheer number of works on display here at the ING hang makes it possible to dismiss any attempt at visual harmonics and simply open up wide the firework paint box or consider the once anonymity of clammy clay, finding form.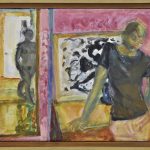 Russell Tovey says… 'I am drawn to colour and figuration in a big way – and dogs, I always love dogs, so my selection was looking for the most dynamic and exciting artists exploring the figure and colour saturations – and of course, dogs. I'm excited to see my selection hung together'.
And colour (and dogs!) you will find a-plenty.
There is a sort of funfair, circus 'feel' to this show, where at once you might see a beautifully rendered classical portrait in oils, fine drawings on paper, a minimal experimentation with plane and angle or other diverse and atmospheric expressions. Jessica Harrison's dark and beautifully sinister, 'Coalport grand finale' presents a ball-gowned lady, entirely in eerily magnetic, glossy bitumen-black. There is irony and tongue-in-cheek regarding the colour and the history of such a traditional figure. Callum Eaton's 'Overloaded Plug' shows a construct we are all familiar with, perhaps and have been guilty of having in the home or office and the artist conveys that very real sense of immediate danger with the request that one considers the beauty of these individual shapes, forced together to make a composite whole.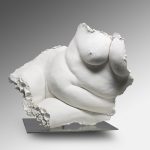 Fashion designer, Nicole Farhi, still remembered for her slicing simplicity of line and form in her clothes for men and women, presents 'Cybele' a partial torso reminiscent of the Willendorf Venus and yet with an abstract suggestion as well. Farhi has been sculpting for thirty years – throughout her career as a fashion designer. Doubtless, one discipline fed and informed the other. Many creators might agree that all aspects of the works of hands, however diverse might be described as 'art'. She says…'My aim as an artist is to stir up hidden emotions – to remind people of feelings which maybe they'd forgotten they have.'
There really is something for everyone, here – even that person who falls in love with Linda Hubbard's 'Toasted Burger Muffin' featuring a portrait of Donald Trump. You see what I mean?
ING Discerning Eye 2021 Exhibition, Mall Galleries, London