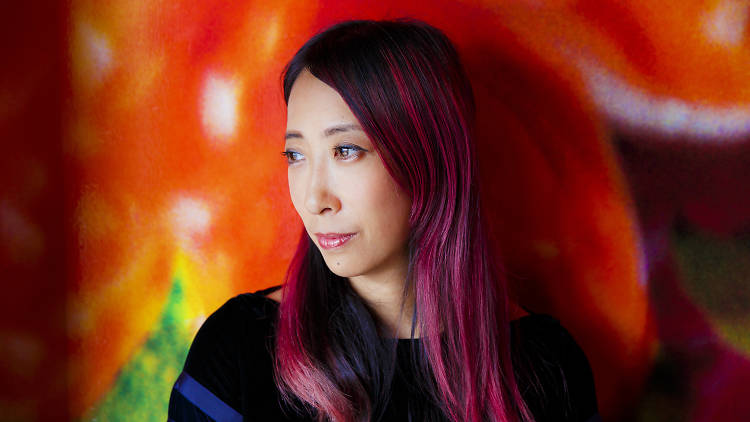 Exhibition News 
No one quite does florals like the celebrated jewellers, Van Cleef & Arpels, writes Robin Dutt. The company's lusciously simple and elegant settings for their flawless gems are world renowned and often feverishly collected. I remember so well, a 'happening' at London's Home House, more than a decade or so ago, when the unique and chic Joan Rolls organised a series of mis-en-scenes featuring performers (ballet dancers, opera singers and statuesque models) in many of the well appointed suites, each chamber informed by a single glorious example of the craftsmanship of Van Cleef & Arpels, which was established in 1906. Vincent Meylan in 'Van Cleef & Arpels :Treasures and Legends', (2011) points out – 'Van Cleef & Arpels was not merely a purveyor of jewels to men and women who possessed – and still possess – colossal fortunes, but also their confidant'.
This season, the well-respected photographer, Mika Ninagawa (pictured above) will show her take on some of the jewellery house's floral gems in almost impossibly vibrant colour. Flowers are transient, living gems – something that the talented jeweller, JAR (Joel Arthur Rosenthal) as another prime exemplar, would understand so perfectly – the joy being their ephemeral essence and so all the more precious. Seasons remind that you cannot force the hand of Nature and so capturing their spirit of life in natural and often rare gemstones is an attractive reminder of the magic and intensity of a variety of buds and blooms – from the very simplest fruit blossom to the complexity of shade and pattern seen in say, an orchid. Ninagawa knows this only too well, as her love of Sakura (Japanese cherry blossom, in blush pink) shows which has a specific bloom time in Spring, is an international tourist attraction and indeed, a much loved domestic delight and source of national pride. The artist spends days at a time, photographing these ballerina blooms in different light and from different angles producing unusual and stunning effects.
The current exhibition, 'Florae' features some 100 flower-inspired jewellery masterworks but is it Art imitating Nature or Nature imitating Art? Either way, the result is indulgently glorious and a seduction of the senses.
Hotel d'Evreux, Place Vendome, Paris, France until November 14.