NOW'S THE TIME TO BUY ANTIQUES
With a fall in prices of antique furniture over the past year, there has never been a better time to buy, guided by a little help and advice from the experts.
The well-regarded Antique Furniture Index, compiled each year by John Andrews reveals that prices in all categories, barring one, have fallen to record lows during the past year.
The one exception is that of pieces of the highest quality and with impeccable provenance, underlined by the record price of £3.75 million paid for a Chippendale commode at Sotheby's last December.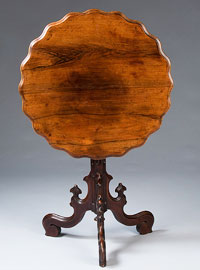 But in other sectors there is great opportunity for collectors. Timothy Langston's gallery in Moreton Street, Pimlico, contains many examples of top quality English and Continental furniture but he is quick to point out that the decline in interest in the middle market provides real opportunities.
"Middle quality antique furniture is not performing so well and I would advise people who want to create a look, but are less concerned with provenance, to look to this sector of the market as it provides great value.
"The one piece of advice I would give any client is to buy what you love. Even if this means stretching oneself financially. It is amazing the pleasure which a beautiful work of art can give for many many years."
"Today is a wonderful time for both collectors and furnishers of antiques," says John Hill of Jeremy Ltd, " as ordinary antiques are very cheap and rare items benefit from the wealth of new knowledge and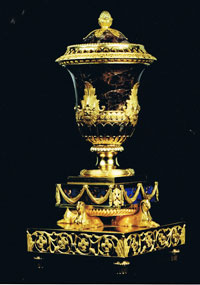 research helped by the electronic age."
He draws on the experience of his father before him when evaluating current market traditions. In the post-war period, the firm, founded in 1946, helped to lead the move away from 18th century furniture and towards a Regency taste. He is very philosophical when faced with the current market, saying "what goes around comes round. Fashion plays a part in the art world, and although some say that brown wood Sheraton/Hepplewhite are not the flavour of the month, I would say the best of any of these periods will always find a collector."
At top, a rosewood tilt top table in the gothic revival style, circa 1840, from Timothy Langston. Above, a blue john, gilt bronze, tortoiseshell and glass perfume vase attributed to Sir William Chambers and Matthew Boulton, circa 1770, from Jeremy Ltd

Eddy Bardawil, who has been dealing in English furniture for over 25 years, agrees and adds "There are plenty of great opportunities in this present climate for anyone wishing to start dealing in English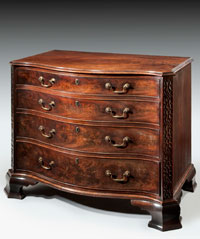 furniture and my advice would be to try and buy the best you can afford even if it is a little plain, concentrating primarily on good colour and clean lines, well figured woods and above all patina, avoiding at all cost a bad surface."

With his showroom in Kensington Church Street and highly respected throughout the industry, he forecasts : "I strongly believe that in the very near future antiques will come back into fashion, as people will tire of soulless modern furniture and start collecting timeless designs."
At Kenneth Neame Ltd, one of the last remaining dealers in what used to be known as 'antiques row' in Mount Street, Mayfair, director René Sattler is upbeat about the current market. "There are still many affluent people who prefer to have the
wonderful quality to be found in antiques in their homes. Quite often antiques are mixed with modern furnishings to great effect".
"One should buy antiques for the pure enjoyment of having beautifully made things around," he says. "The very best always increase in value and get rarer to find as so many superb items end up in museums."
Above, fine Chippendale period figured mahogany serpentine shaped chest of drawers with blind fretwork, circa 1760, from Eddy Bardawil. Left, tôle-ware cabinet attributed to Frederick Crace, circa 1810, once part of the furnishings at Chatsworth House from Kenneth Neame.

Aggressive marketing and media exposure for many auction houses has led to a large increase in their private clients but buying furniture at auction is not for the inexperienced and buying from an experienced dealer has many advantages.
"There is no doubt that British trade buyers are very knowledgable in their field due to the fact that through the buying and selling process they have acquired a lot of knowledge," Eddy Bardawil points out, "and normally can quickly detect whether a piece has been 'through the mill' or not. Auction rooms on the other hand tend to be less cautious due to the large amount of items they handle and sometimes descriptions can be vague and inaccurate."
Timothy Langston adds "Dealers can also provide more flexible payment plans and clients are generally under less pressure to make instant decisions - I even encourage people to try pieces in their homes before they commit."
And John Hill points out that many clients buy through dealers or art advisors who are commissioned to bid on their behalf at auctions "Never forget a well established relationship with a dealer does not stop a client buying at auction. A dealer can act as agent and as the filter to provide a good result."

All the dealers are keen to stress that they are eager to buy items of quality furniture and associated works of art, with John Hill particularly interested in any period blue john and ormolu items (especially those connected with Matthew Boulton) such as the vase illustrated above.