CELEBRATION IN THE CITY
Bang opposite the Old Lady of Threadneedle Street, the Royal Exchange is one of the City's grand historic buildings, with a lineage dating back to 1565, and a monument to the wealth and financial power of London over the years.
But like many other institutions in the City that owed their allegiance to its financial concentration, the Royal Exchange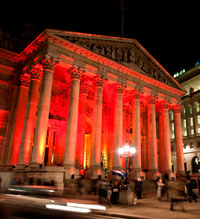 has been transformed into a beacon of London's buzzing lifestyle.
Fine dining, top fashion, expensive jewellery, fancy fragrances, all manner of time pieces, and luxury chocolates have replaced the sober concerns of commerce that once dominated this edifice. How those who toiled in this and similarly converted banks and insurance buildings throughout the City would be surprised to see how the mighty have fallen into such indulgent usage.
The building was completely renovated in 2001 to provide the present mix of old and new retail outlets. And this autumn it will be celebrating its 10th birthday with a bumper party in what was the old trading floor.
The City may have its concerns about the current financial state of things, but this doesn't seem to be troubling its workers too much, given the on-going success of businesses within the Exchange.
THE courtyard, once a bustling trading floor, now houses The Grand Café and Bar, frequented by stylish young City workers as well as the sober suits. And the surrounding shops are proof that the City remains an affluent sector.
"We have probably been here longer than anyone else," claims Nigel Bird,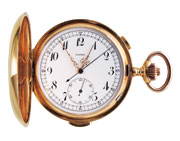 managing director of the family jewellery business, Searle & Co, " with the possible exception of the tobacconist."
His tiny shop is one of the original retail outlets on the outside of the building. Started by his great-grandfather, the company moved here in 1932 and has watched with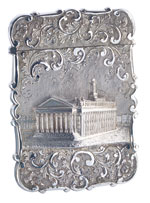 some wonder the transformation of what was a sober institution into today's monument to hedonistic taste .
Dealers in antiques as well as their own collection, the shop's bespoke service is popular for those seeking special designs. And not to be underestimated is its 'old fashioned' appeal, chock full of displays of jewellery and silver in contrast to the modern more minimalist style of other jewellery outlets.
IN an area where once no man went without his bowler, a hatter has returned to woo the locals back to wearing hats. This is Laird & Co,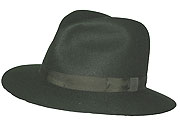 run by a couple mad about hats, Alex and Zofia Torun-Shaw
And the bowler is back - but not in the City. "Its young lads in the East End who wear them, and plenty of girls too," Alex Torun-Shaw reports.
He visits customers, if required, to take measurements,and makes special designs to order.
In addition to classic fedoras, trilbies and panamas, the shop sells brightly coloured versions, summer straws, leather helmets and, for winter, some extravagant trapper styles which were a great hit last winter, even in the City confines. Here, a classic fedora in crushable furfelt, £85.
A TOBACCONIST shop might seem a doomed enterprise, given the decline of smokers, but the Smokers Paradise at the Exchange is a haven for City workers still addicted to the weed – especially cigar smokers.
"If they've had a good day, they come in for a cigar; if they've had a bad day, they come in for a cigar," says Mukeshs Gaglani, who runs this small emporium devoted to cigarettes, cigars and pipes. "Yes, we still sells pipes and pipe tobacco. Cigarette sales are going down but we are the only tobacconist left in the City, and so far cigar sales are keeping up."
But as a hedge against future exigencies, he has diversified into selling exclusive malt whiskies , as well as champagnes and other tipples the locals might fancy.
OCCUPYING one of the major sites within what was the trading hall, Boodles is the luxury jeweller here to tempt those eager to splurge their bonuses.

"Our bespoke service is an important part of the business," manager Tom Evans emphasises. "We design and make everything in our workrooms.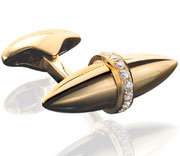 We find men may buy for special occasions, while women buy when they see what they like."
"It's a very nice area to work in, there's a friendly atmosphere in the City. And the transactions are quicker – on average a sale takes 15 minutes."

Yellow gold links set with diamonds, price £1,400
The customer base is largely from City workers in the 30 to 50 age bracket, with some tourists now making there way here. And there is plenty of interest in top pieces - one recent sale was worth in excess of £100,000.
And much more... Chocolates from master chocolatiere Paul A Young, with a popular delivery service; Loro Piana's fabulous
textiles are available in a made-to-measure service; fun precious jewellery is shown by Theo Fennell; classic shoes from Church's; "pre-loved" watches at the Royal Exchange Jewellers; male fragrances at Penhaligons; writing and time pieces by Mont Blanc (right); more watches by Watches of Switzerland; and Omega; and the Imperial Chinese retaurant a long-time basement favourite ... these and more have transformed the old place into a lively new trading centre. See the new edition of Savile Row Style Magazine for a full feature.