SKIN STATUS SYMBOLS
Leathergoods for men are the equivalent of jewellery for women. A svelte wallet, immaculate attaché case, superior suitcase…these are the items that are male status symbols, usually classic in style, made in the finest of English leathers by craftsmen every bit as skilled as Savile Row's tailors.
English leathers were prized world-wide but the industry has been decimated in recent years, leaving just a few specialists to carry on the tradition. And the luxury quality of their products means they continue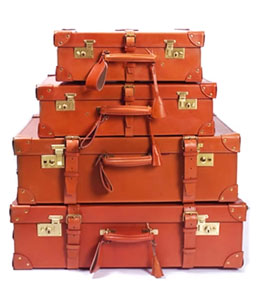 to have world-wide appeal to men who want the best.
One of the most famous names is that of Swaine Adeney Brigg. With a shop hard by the Ritz in London and just up from St James's Palace, it is the granddaddy of the British leathergoods trade, with a history that goes back 250 years. Beginning as a maker of equestrian leather goods, over the years it has moved into luggage, small leathergoods and briefcases, all made by hand at the Cambridge plant by successive generations of craftsman – and now some women.
Swaine Adeney still makes the sort of luggage that calls for private travel and porters, immaculate cases and bags in finest English bridle leather, solid brass furnishings with gold initialling available. But it also makes all kinds of other leather items and accessories and of course its famous Brigg umbrellas.
Another top leather name is Tusting, run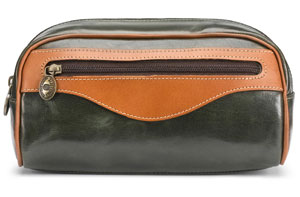 by the same family for five generations. They have a tannery and manufacturing base in the Buckinghamshire countryside, from where they export small and large leathergoods, including furniture, around the world.
Tusting make soft luggage holdalls rather than suitcases, washbags and wallets in toning two-tones, as shown in the latest Harrold collection, above. They use Scandinavian hides and English bridle leather, which only improves with age.
Younger but no less committed to traditional quality, coupled with modern styling, is Ettinger. Another family business established for over 70 years, it carries classic attaché cases, wallets and bags but has diversified into more fashionable designs and into new finishes.
This has lead to a range of colourful pieces for men, as well as women, still in the finest of leathers, all hand made at their Midlands factory. They also offer a bespoke service, so that any items may be made to specification.
And the newest addition to the luxury leathergoods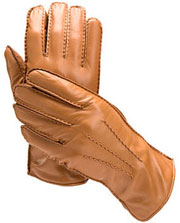 pantheon is Aspinal of London, its shop in the heart of Mayfair selling a wide selection of finest leather, handmade pieces.
Aspinal's advice if fine leather gets wet is to take immediate action, by blotting with a soft, absorbent cloth and leaving to dry naturally, in a cool dark place. Forced drying will damage the product, they say, as will over stretching. When dry, apply a neutral leather cream.