MORNING SUIT FOR A BIG GROOM
Another royal wedding, another groom. The nuptials of Princess Anne's daughter Zara Phillips to rugby star Mike Tindall in Edinburgh in July may not have been the mega event of the preceding royal wedding but for one tailor it represented quite a challenge.

Cad & Dandy, a young tailoring house on Savile Row, had the task of kitting out the husband-to-be in classic morning suit,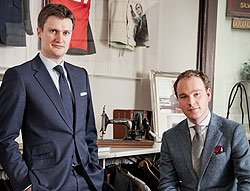 no mean feat when faced with one of the most well developed bodies in the country.Weighing in at 16st, Tindall's physique is not exactly the standard shape, but Cad & Dandy were confident that their outfit would rise to the occasion.

Maybe he did look as though he might burst out from the suit at any moment - but that had nothing to do with the tailoring, more with the suppressed energy of this rugby powerhouse.

Landing the commission for a Royal wedding was quite a coup for a company that was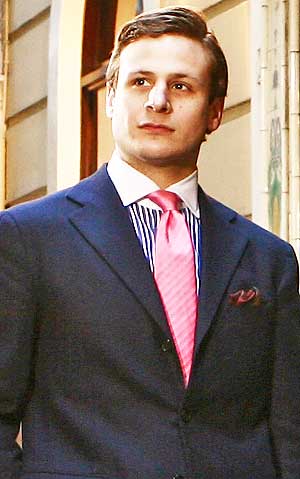 launched just three years ago by two ex-bankers, James Sleater and Ian Meiers (left and right above). They set out to establish a firm that would make bespoke tailoring "accessible to all".
Made redundant from their City jobs, they now have premises in the City and Canary Wharf as well as Savile Row, and have concentrated upon a modern British cut using traditional hand tailoring techniques.

" We offer three grades of tailored suit," says James Sleater, "machine stitched, half hand stitched and fully hand stitched. All of our suits start with pattern creation, done by hand, and retained for all future orders."

Not only did they make the groom's suit but also dressed all the male attendants on the wedding day, from fathers of the bride and groom through to the ushers.

"They all wore a classic morning suit made from a black barathea cloth made in Huddersfield," Sleater confirms. "The trousers had a slightly lighter stripe than is traditional, making them a little more up to date."
Above, classic business suit and below, checked tweed jacket, by Cad & Dandy.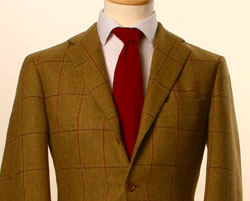 Such an order places quite a load on any tailor, but Cad & Dandy have not been resting on their laurels. They have been working with Vivienne Westwood's son, Ben, on a range of designs that are somewhat less outré than his previous excursions into the style world.
"We just love the exuberance of Ben's work – it's the perfect foil for the more formal wear we deal with in our bespoke tailoring service," said Ian Meiers. He maintains that it is "more sober, classy and city-chic than the hard street fashion for which he has become known –but it certainly has an edge".
"We specialise in bespoke tailored suits, shirts and overcoats – but that does not mean we are too staid to indulge in a touch of trend-setting."
As evidence of this, another flight of fancy has seen them working with a new linings company, DNA Art UK, to produce linings printed with a customer's DNA. As a piece of artwork, it is unusual, as a piece of a Savile Row suit it is perhaps unlikely to catch on t0 any great degree - but could provide a talking point when conversation lags.
"Our customers are sent a swab-kit in the post. They return a sample of their DNA which is used to create a totally unique piece of art work," explains James Sleater.
"Customers can choose which colours are used to display their DNA chart and it is printed onto the silk which we use to line their suit. What could be more personal than being wrapped up in your own DNA?"