LONDON FAIR CITY
The world might seem to have a surfeit of art fairs, antique fairs, jewellery fairs. But there are always new kids on the block who can muscle in on the status quo and, boy, has the Masterpiece event in London done that.
Taking place for just the second time this year, it provides a new benchmark in sophisticated, elegant presentations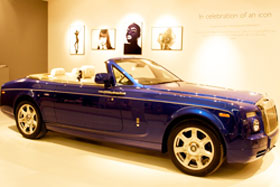 covering an eclectic mix of art, antiques, jewellery, wine and other precious items.
From the Spitfire aircraft, the only surviving prototype, built in 1944, through tapestries, sculptures, furnishings, cars, jeroboams, books, and much more, this exhibition attracted top level exhibitors as well as visitors.
A Rolls Royce Phantom drophead coupé (above) created especially for the show went for around £400,000, a Lucian Freud work was bought for a six figure price, and a Japanese chandalier sold for around £500,000. Many other precious and rare items on show and sold testified to the success of the event.
Launched last year, it will again take place in the grounds of the Chelsea Hospital next year, from the 28th June to July 3. Any serious collectors who did not make the show this year should note the dates in their diaries.
For those who missed Masterpiece there is the LAPADA Berkeley Square Fair in September ( 21st - 25th). Another elegant presentation right in the heart of Mayfair, this too concentrates upon the top level of art and antiques.
From portrait miniatures to armour, bronzes and antique glass, through fossils, contemporary fine art and old master drawings to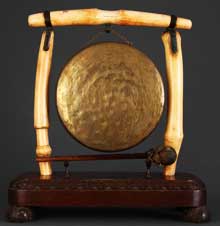 antique canes, oak furniture and scientific instruments, et al, this show has rapidly become one of London's main attractions for collectors since its launch in 2009.
Attended by the tout monde of Mayfair as well as serious buyers, it is one of four exhibitions organised by LAPADA, the association of London Art and Antique Dealers.
An additional attraction to the treasures on show is the bar/restaurant area. This is open-air in the centre of the exhibition beneath the Berkeley Square plane trees, and on a warm September evening last year, with a golden moon above and sipping champagne, it was almost possible to hear a nightingale sing. Perhaps someone will have the wit to have a recording playing this year!
And the final, not-to-be-missed event starting at the end of September is the Goldsmiths' Fair, a showcase that features new and established designer-makers of jewellery and silver.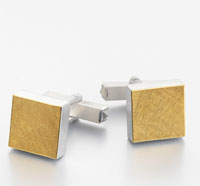 Over two weeks, (September 26 to October 9), craftsmen and women will be displaying their latest handmade creations, some from small workshops around the country, others with more established premises in London, but all dedicated to original, bespoke pieces.
It benefits from taking place in the splendid Goldsmiths' Hall, one of the City of London's great livery halls, the third to be built on this site since the first in 1339. This is where the essaying and marking of gold and silver has taken place since the 1300s and continues today.