THE BEST OF TIMES
You may not have heard of Quinting but its launch just 11 years ago marked a milestone in Swiss watch making. It was/is the first ever totally transparent watch and is now establishing a limited number of retail distributors in the UK.
Seeing the hands floating round in clear space, anyone's reaction is to ask 'where are the works?'. The answer lies in transparent sapphire wheels circling beneath the hands, quite invisible, that engage with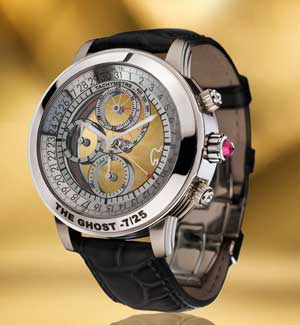 the most sophisticated of micro-mechanisms. That's putting it simply.
In reality, it took three Swiss watchmakers, one automotive engineer and one electromechanical research engineer to pool their knowledge and expertise to come up with what had been thought impossible, a completely transparent chronograph. And it took them seven years.
Since its launch in 2000, it has attracted such luminaries as Bill Clinton, Kofi Annan, Vladimar Putin and, not surprisingly, the majority of the Swiss government.
Based in Geneva, Quinting make their own movements, which are assembled by hand in a dust-free white room, to ensure perfect transparence. Some models do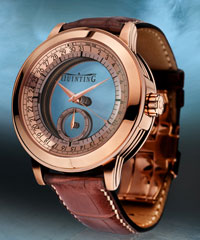 provide a design on the circulating discs - a ghostly silhouette, for example, and, the latest, two doves that circle clock and counter-clock wise, but for a fleeting moment when the hands meet on 12, when they merge together to represent Peace.
The Quinting is a very special watch that has all the qualities to be expected of a fine timepiece, available in a range of designs.
POCKET watches are enjoying something of a renewed vogue among new old fogies. Tailor Mark Powell likes wearing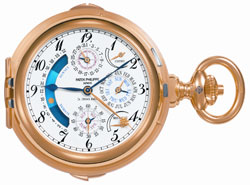 one with a watch chain across his waistcoat, and it does provide another male jewellery item. And Patek Philippe keep a number of them in their collection, of which the Star Caliber 2000G is a very exceptional example.
The result of 8 years development, this comes in white, rose or yellow gold, or platinum and has a combination of complex new complications. It gives local mean time and true solar time, and is the only watch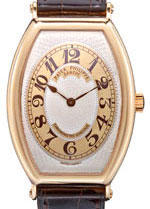 to reproduce exactly the chimes of Big Ben.
With over 1,000 parts, and two covers that reveal celestial charts and moon phases, it is a treasure of a watch that the next generation would be very lucky to in herit. Patek Philippe watches, like Savile Row suits, have a tradition of being passed on to the next generation.
SOME rare pre-owned watches are currently available at Heming. This family jewellers, based in the Burlington Arcade, carries an extensive selection of quality brands, some with star status.
Arnold Schwarzenegger is the star linked with the AP Royal Oak Offshore, the Legacy Chronograph, and he collaborated with Audemars Piguet to create a collector's timepiece. Heming has one of only 1,500 pieces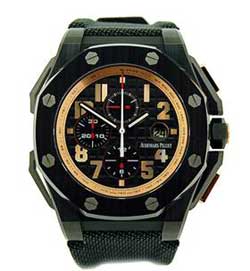 made of this watch, a suitably chunky style for The Terminator, though unworn by him.
Heming's history dates back to 1745, when Thomas Heming first registered at the Goldsmith's Hall. He went on to be appointed Principal Goldsmith to King George lll in 1760, and from that time the company has continued its royal connections, operating from a number of Mayfair addresses. Particularly known for ladies jewellery, it also offers cuff links, tie pins and dress sets for men, as well as watches.
ONE of the first water-resistant watches came from Corum, as seen in this brand's first Admiral Cup model in 1960. Since then Corum has gone on to establish itself particularly in the sports field, and especially in the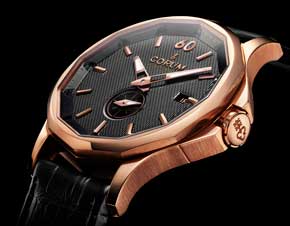 sailing world, worn by such sailing masters as Ben Ainslie., three times Olympic gold medallist.
At the Basel watch fair earlier this year, it launched two new Admiral's Cup versions, one for ladies in mother-of-pearl with diamonds, the other, the Admiral's Cup Legend 42, for men.