CULINARY CRUISE ROUND SCOTLAND
Sun-kissed beaches, fabulous nightlife, exotic shopping- these are not, generally speaking, what anyone goes to Scotland expecting to find - though we should add, lest the Scots take umbrage, that there are lots of beautiful beaches, some sun, a robust evening life and an abundance of shops doing a brisk trade in traditional Scottish products.
But plenty of places offer sun, sea and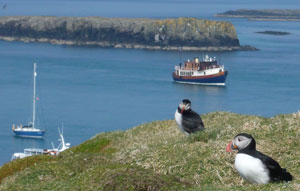 sand. Scotland's attractions are more distinctive, more masculine.
There's the fishing, the rivers Tay, Tweed, Spey and others that attract an international coterie of devotees each season. There's the stunning beauty of the Highlands, the rich heritage of castles and keeps, the lure of the Whisky Trail. And there's the food.
Scotland has long produced the best of beef, salmon, game and such specialities as kippers and shortbread. But up until quite recently, it was not noted for its culinary expertise in using its local fare.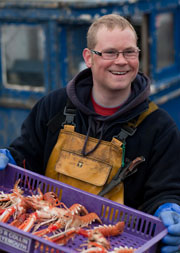 Now, though, after some years of development, food is to the fore in attracting visitors, not only to Scotland's shores but off-shore too, with The Majestic Cruise Line focussing upon the dining quality on its cruises as a major factor to lure passengers.
Two vessels, the Glen Massan and the Glen Tarsan, take guests around the lochs and the islands on mini cruises that are as far removed from the razzamatazz of the international cruise ambience as the Scottish countryside is from downtown Ibiza.
This is cruising at its most peaceful, the ships taking a maximum of just 11 passengers. They sail around the Scottish coastline, calling in at small islands, inlets and villages not accessible to larger vessels. The weather may be good, it could be dreadful, but whatever the weather,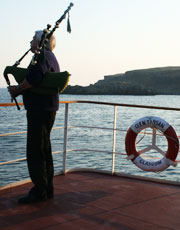 the scenery will still look spectacular, and the gardens, the castles and the wildlife are stunning.
Having cruised this coastline, we can vouch for the fact that it is one of the most enjoyable and relaxing of holidays, in beautiful surroundings. The Majestic Line ships were converted from hand crafted, wooden hulled fishing trawlers, comfortably but not lavishly appointed, and run by two local Argyll men, Andy Thoms and Ken Grant.
They pride themselves on the food served on board, at anchor in some delightful spot. Lochfyne kippers maybe for breakfast, lobster at lunch or Argyll prawns, Argyll venison or beef for dinner, all fresh, local fare. A dram of fine whisky here and there, calling in at a distillery or two, puts a wonderful complexion upon things.
A mini cruise has been added to their itinery for this autumn, as the main ones have long been booked up. This is a 3-night cruise in October, taking in the isles of Bute, Cumbrae and Arran, prices from £895. Otherwise, it's a case of checking next year's itinery of 6 and 3 night cruises on www.themajesticline.co.uk.
MICHELIN CHEF FOR SAILORS
And from Scottish cuisine afloat to Irish beside the sea. Boasting a Michelin-starred chef, The Cliff House Hotel in Ardmore, near Waterford in Ireland, offers sailors safe and free moorings in front of the hotel on this beautiful south coast.
There are just two private moorings here, which can take up to 60 tonnes yachts. After a hard day's sailing, the prospect of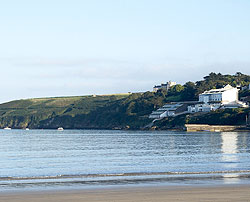 dining in the hotel's restaurant, rather than slaving in a hot galley, makes this an inviting place to tie up for the night.
The chef, Martin Kajuiter, is one of just six chefs in Ireland to hold a Michelin star, and the only one outside Dublin, first winning it in 2010, and keeping it in 2011. He previously worked with Marco Pierre White, and is now passionate about using locally sourced Irish products for his dishes.
This is a favoured spot for deep-sea fishing as well as sailing, and water-skiing, windsurfing, kayaking and golf are also laid on by the hotel. But for those who just was a relaxing break, it provides a chic but comfortable interior style, with the largest private collection of antique Campaign furniture in Ireland. www.thecliffhousehotel.com