A PASSION FOR STYLE
"I don't take myself too seriously but I do take seriously what I do," says Mark Powell, flashing his famous grin.
And evidence of his serious application to tailoring is in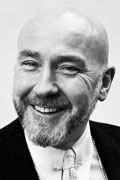 the bespoke business that he has built up over the years. Many famous style figures have made their way to this Soho-based institution, which is backed by workrooms just off Savile Row, but he has a solid foundation of loyal customers that may not be famous but know a good suit when they get one.
"I'm one of the few hands-on tailors left," he maintains. "All of the houses along the Row used to have real tailors running them, but not so much now. I measure and fit customers, I can do every aspect of the job. And I'm passionate about style."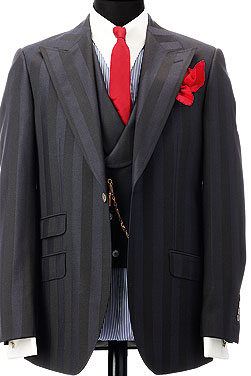 This began at the age of 12. "My father was in the textile trade and so I would take some cloth along to a local tailor and say how I wanted it styled. And when I left school, I knew I wanted to be concerned with fashion somehow – and started in a hairdressing salon on Savile Row!"
It did not take the young Powell long to realise he would rather be in clothing than hair. Moving to a top end men's retailer then in Conduit Street, he had his first training in taking measurements and fitting made-to-measure lines.
"That's where I began to take a real interest in style, in vintage stuff. I wore the American retro look, and then moved to a vintage shop in the Kings Road, where I was making made-to-measure suits in 1950s styling."
The next step was to have his own shop, one of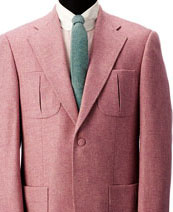 his Soho customers providing premises. And by a stroke of great good fortune, he found a warehouse in Stoke Newington full of 1940s/50s and 60s suits that had never been worn. These, plus his own style blocks for made-to-measure suits, set him on the road to establishing his reputation as a tailor with style and knowledge of vintage.
"Let's face it, there isn't a great deal of difference in most suits, its how you put them together, how you accessorise them. I began researching fashion trends. Everything goes in cycles. I looked at the Teddy Boy style, and at the neo-Edwardian look, very British, as worn by Bunny Rogers (great style figure of the 1950s/60s).
"I studied old movies and stars of the 1920s and 30s era, when the androgynous style came in, as seen on Marlene Dietrich and Katherine Hepburn. I liked the strong shoulders, the Oxford bags, the db lapels."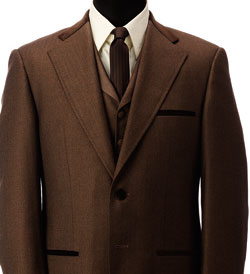 He learnt bespoke tailoring from the tailors he employed. He was attracting such style figures as Bryan Ferry, David Bowie and Jonathan Ross, and then moved on to the boy bands and to female customers, including model Naomi Campbell. He has made for TV series and for films, staged catwalk shows in London and overseas, worked with Marks & Spencers on a collection, and launched his ready-to-wear range.
He has, in short, been one of the most prolific of tailoring talents, garnering these extra strings to his bow whilst working steadily at a core bespoke foundation.

"I'm the link really, the one that bridges the Tommy Nutter era and the next new tailoring wave of Timothy Everest, Ozwald Boateng and co.
"I do a classic bespoke suit but I add interesting details, put it together with a colourful tie, bright socks maybe. I've fused traditional Savile Row with contemporary street style. Most of Savile Row lacks style," he says with a smile. "Its my passion."