ROLLERS' SUNNY CENTENARY
It was a perfect English summer's day, balmy breeze, candy floss strands in the sky, deckchairs on the lawn – and more Rolls Royce in the car park than you could shake a stick at.
They were there for a grand party to mark this iconic brand's centenary, and had made their ways through the highways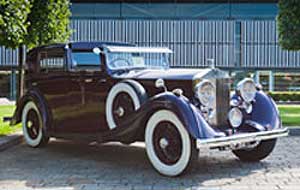 and byways of England, and beyond, to gather for this special celebration.
One hundred cars, starting from 1911 models through to the present day, all cleaned and buffed to look their very best, assembled at the RR headquarters near Goodwood.
And the owners, many from the Rolls Royce Enthusiasts Club, had also put on their best bibs and tuckers to do justice to the occasion. Not surprisingly, given their taste in cars, they were a pretty stylish bunch, showing a preference for classically English garb but with that English flair for slightly eccentric originality.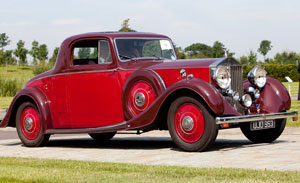 One couple were inspired by the Edwardian-era start of the marque to dress in full Edwardian costume. For many others striped blazers, linen suits, panamas, straw trilbies, Christopher Robin sunhats and even the odd boater were in order on one of the few hot and sunny days of July.
A tour of the plant revealed how spick and span are today's engineering works. The famous Spirit of Ecstasy figure was given new focus in a collection of works by top photographer Ian Rankin. And everyone enjoyed a packed lunch on the lawn of a variety clearly inspired by English picnics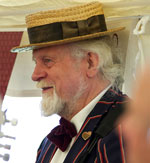 of yesteryear. Who would recall that BMW now owns the brand?
But the cars were the stars. One, the Magnificent Magdalena, provided a potted history of its owners down the years, from being bought by a grocer in 1927 for £250, through service as a funeral car, up to being present at D-Day commemorations. Another was one of the many Rollers made for a Maharaja in India. Fabulous old models as well as newer versions had the enthusiasts drooling over them and swapping stories as to when and how and where they acquired their own treasure.
Today's sleek models, alas, lack the grandeur and elegance and distinctive style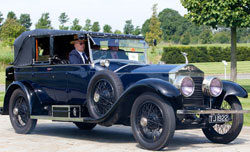 of those older cars. But the engineering skills and bespoke features available to customers now, combined with the brand's reputation and glamour, continue to make this the car that everyone aspires to own.
Three recent orders which specified that the Flying Lady emblem should be in solid gold came from China. Another customer wanted every conceivable luxury addition, which brought the price tag up to near £900,000. "Make it up to a million, somehow," he urged.
From fridges in the boot, to cigar humidifiers, to full accessories for hiking, and picnic hampers that add £15,000 to the bill, the Rolls Royce designers can provide whatever the customer wants. "We're not surprised by anything now," said general manager of engineering, Andrew Martin.