Back to winding up your future
Handmade watches are for people who have time – time as well as money. Take the Lange watch for example. Yes please, most would say. The meticulous work by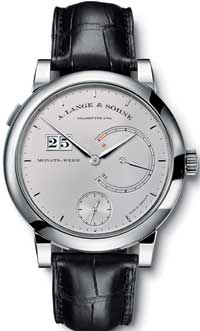 craftsmen that goes into each and every one of the Lange models takes anything from six months to a year for completion. And such is the demand for these bespoke timepieces that on the latest one, the Lange 31, those who place an order now will have to wait until the end of next year or the beginning of 2009 for their treasure to arrive.
Such works of art – for that is undoubtedly what they are – command commensurate prices. The limited edition Lange Tourbograph, launched last year at a price tag of around £275,000, has had addicts not exactly queuing up but certainly keen to be one of the few to own such a special watch.
The latest Lange 31 (seen here) is unique in that it is the only manually wound watch that runs for a month (31 days). The complexity of this movement will be appreciated by horology enthusiasts. Storing such power coupled with constant accuracy requires such refinements as "two stacked mainspring barrels with an inside diameter of 25mm…two mainsprings each measuring 1,850 mm in length…". In all, there are 406 movement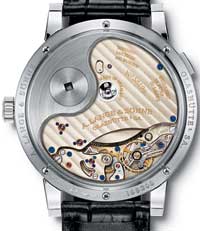 parts and 61 jewels, and the man who has invested some £100,000 for the privilege of owning one of these watches has the pleasure of watching time go by through the crystal display back – a feature of Lange watches.
To see further details on Lange go to their website on www.lange-soehne.com In the UK, their selected retailers in London are Wempe and Watches of Switzerland and outside of London Cottrills, Pragnell and Hamilton & Inches.
Watch for a well timed ankle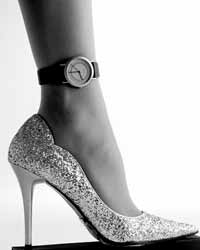 ANKLE watches may not catch on, but the new collection, a.b.art, just launched in the UK, is a stylish young range of designs that will look just as good on the male wrist as on this pretty leg.
Claimed to be inspired by the Bauhaus tradition, the watches are on clean lines, with soft leather straps, and are reasonably priced from £105 to £234. There are 76 designs to choose from, all Swiss made.
Little known in the UK, a.b.art is sufficiently well thought of to be represented in the Museum of Modern Art, New York.
The watches and specifications may be seen online at www.abart-uk.com
More retro influence from scooter icon
WATCH collection inspired by the popular Lambretta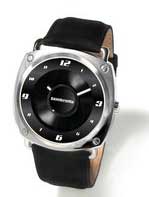 scooter has been selling well, with more retro designs just introduced .
Latest addition to this range takes its name from another racing driver (see right), Oreste Brunori, an endurance driver. It features a large retro dial that is reminiscent of the Lambretta speedometer of the 1950s and has a large clear dial, measuring 50mm x 50mm and a rotating disc instead of a second hand. With a stainless steel case and vintage leather strap, it comes in silver and Lambretta trademark target design, as well as the black shown here, price from £110.
Glowing face in the deep
LOTS of watches claim to be waterproof - but perhaps briefly in shallow water. The new diver's watch from Bernex Watches gives a 20 ATM water resistance, and, as with all quality diver watches, the bezel is uni-directional. Swiss made and suitable for men and women, it's black dial features a luminous Arabic index to show clearly underwater, price £425. www.bernexwatches.com.