Everyone loves a Sailor
A nautical style is in favour again. We say again because it's an influence that comes round regularly and has done so ever since Queen Victoria had a sailor suit made for the then 5 year-old Prince of Wales in 1846.
The white suit, as here, with navy stripe details and sailor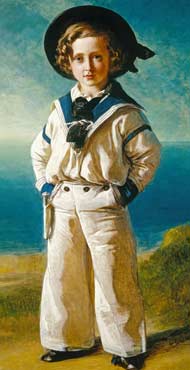 collar, was modelled upon the uniform worn by sailors on the Royal yacht – and which was to be adopted as the uniform for ratings in the Royal Navy in 1857. The outfit was an instant success, and doting parents followed the Royal lead by dressing up their children in similar styles. Grown-up versions of this and other Royal Navy classics continue to inspire designers
So this season, the sailor collar, nautical stripes, bell bottom trousers, buttoned fly fronts and striped jerseys are awash in the women's fashion field – and where the ladies lead, menswear follows.
Mark Powell showed the way, with a nautical influence in his Summer collection, seen in lots of blazers and shorts, and Timothy Everest took inspiration from the Henley boating scene, again with blazers, strongly striped. But the senior service has always been the particular speciality of Gieves & Hawkes, the tailors who make Royal Navy uniforms, as well as classic blazers and other nautical casual styles in their civilian collection. Watch for reefers and duffles this winter.
Giving a further boost to the trend is a new exhibition, just opened, at the National Maritime Museum at Greenwich. 'Sailor Chic' draws upon the archives of this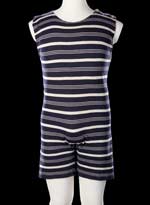 museum as well as designs from top couture and high street names.
From the classic duffle and reefer coats through bathing suits (as left), 'monkey' jackets, variations on sailor suits and piratical derivatives, the Navy's style influence has been as global as its fleet. John Paul Gaultier, Vivienne Westwood, Yves St Laurent, Galliano and Kenzo are just some of the design names who acknowledge their debt to the Navy. And they have contributed outfits to this exhibition, displayed alongside garments that illustrate the development of nautical style up to the present day.
In the splendid setting of the Maritime Museum, the exhibition continues until December – see www.nmm.ac.uk
Dance revival brings back Glamour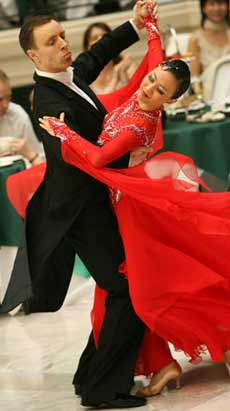 Male glamour was revived in London this summer with the return of the wonderful Waldorf Tea Dance. Top dance professionals showed just how to do the tango, the cha cha and other ballroom dances, before an audience that enjoyed not only these displays and a classic English tea but also eagerly took to the dance floor once the professionals were off.

The Waldorf was the place in the Roaring Twenties, where all the Bright Young Things went to take tea and tango. Now part of the Hilton empire, it has been revamped yet retains its old world charm, providing a romantic setting for dancing couples in evening tails and glamorous evening dresses – and the non-professionals also came well dressed if not quite in evening formals for this special summer tea party, emphasising how important clothing is in setting the scene.

Such was the success of this one-off event that the hotel plans to run regular Tea Dance events from September. For those who would love to acquire ballroom expertise, classes are being offered before the main event, covering ballroom and Latin dances. The tea includes such English delights as finger sandwiches, scones and clotted cream, pastries, choice of teas and a glass of champagne – scrumptious. This and dancing displays plus dancing for the afternoon cost £55 per head, with classes starting at £10, and bookings are already being taken. For more information go to www.hilton.co.uk/waldorf

ADVERTISEMENT